Nestled within DeKalb County, Shabbona Lake offers some of the best camping within ninety minutes of Chicago. Midwest Camping hit Shabbona Lake camping, just before the turn to winter, in October 2020. We gathered some friends to fill three campsites for three days to really check out what Shabbona Lake's campsites, facilities, and nearby activities for ourselves.
Shabbona Lake Camping Tips:
Take a look at the campsite map to find sites with amazing lake views
Note that the sites may be a little small for two medium or large tents
Head to the shower building when you need a bathroom
Campsite
Shabbona Lake had three camping loops to choose from, we opted for the Canvasback Cove loop since it is closest to both the Lake and the camp store – The only real downside of the is that its a little further than the Merganser circle from the best bathrooms. The campsite itself is fairly typical for the state parks with a metal campfire circle, picnic table, and gravel parking for two. While the site are supposed to be large enough for two tents, we had a challenging time finding enough flat ground for just our REI Grand Hut Four. You may want to consider getting two sites if you're worried about space for two tents.
Shabbona Lake Camping Activities
Walking the loop trail is a great way to spend a few hours around the state park, enjoying the great outdoors and admiring the different areas around the lake. It was a little cold for us but if you're there in the summer, check out the boat rentals to relax or to fish – we saw a lot of successful fishermen around the lake during our time there.
We also drove about fifteen minutes away to Jonamac Orchard to spend a day doing fall activities like apple picking, navigating a corn maze, and enjoying hot cider. They also had a cider house where you can try a whole flight of different hard ciders! We walked out with a dozen donuts, half peck of apples, and more cider than I'd like to admit!
Facilities
Back at camp, there are outhouses and a larger shower building with more developed facilities (and of course, the showers). It is definitely worth the walk to go all the way to the better spot if you're interested in running water. The shower house was clean but not very well heated so keep that in mind for winter months!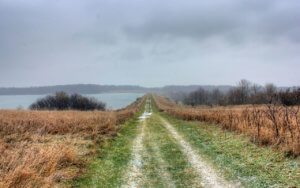 Camp Store
The camp store is well stocked and has plenty of firewood. We went in October, right as the weather started to turn but there was plenty of firewood to keep us warm. The woodpile is also accessible outside of store hours in case you run out after they close (just be sure to leave the right amount and fill out the envelope!).
Verdict: Shabbona Lake Review
Shabbona Lake camping is a delightful way to spend a weekend – take a look at their website for more information. We will certainly be back there again in the future! If you're going to have more than one tent in the group, take care to ensure you'll have enough space given the terrain.