For the best camping in Kankakee, look no further than these three campsites! Fish the Kankakee River in one of Illinois' best state parks, or go for a private experience at the local RV park with stunning river views. From the Miami-Illinois word for marsh, Kankakee offers some of Illinois' best natural experiences in the northwestern part of the state!
1. Kankakee River State Park
Best Camping in Kankakee
Nestled along the beautifully scenic Kankakee River, the Kankakee River State Park offers amazing spots to camp. This state park truly has something for everyone. Enjoy fishing for smallmouth bass, catfish, walleye, and Northern pike. Check out Rock Creek for a great angling spot or bring your boat to fish out on the river! If you're looking to experience the captivatingly stunning nature this park has to offer, be sure to try canoeing down the river. When you obtain a permit from the park's office, you can even go metal detecting!
Hiking the 3-mile trail along Rock Creek exposes you to limestone canyons and a frothy waterfall. This hike is a must when camping in Kankakee State Park! BIke and equestrian trails are available as well. During hunting season, you can find ducks, pheasants, turkeys, doves, rabbits, squirrels, foxes, coyotes, and raccoons around the park.
Kankakee River State Park is home to over 200 campgrounds. At the Chippewa Campground, there are 98 Class BE (electricity only, no showers) and Class C (no electricity, no showers) sites. There are 110 Class A (showers and electricity) sites at the Potawatomi Campground. Two cabins are also available for rent. Davis Creek Campground can be rented by chaperoned youth and youth groups. For more information, check out the Illinois Department of Natural Resources site or go straight to making a reservation.
2. Kankakee South KOA
Best Private Campground Near Kankakee
Located just an hour south of Chicago in Chebanse, IL, Kankakee South KOA is a campground all will enjoy. Their family-focused atmosphere is perfect for those looking for a quiet and relaxing retreat. Enjoy swimming in the pool, watching your children play on the playground, hanging out in the game room, and playing a game of basketball or volleyball! Kankakee South KOA offers extra fun on the weekends. Join them for bingo or come visit in October for trick-or-treating! While you're camping in the Kankakee area, check out the delicious restaurants, golf courses, canoe trips, and stock car races conveniently located near the campground!
Kankakee South KOA provides campsites that include electricity, wi-fi, and complimentary garbage pick up. They also offer a dog park for your favorite furry friend! Propane and firewood are also available for purchase. Four cabins are available to rent. Some are equipped with beds, a full kitchen, a bathroom with a shower, and central air conditioning and heat.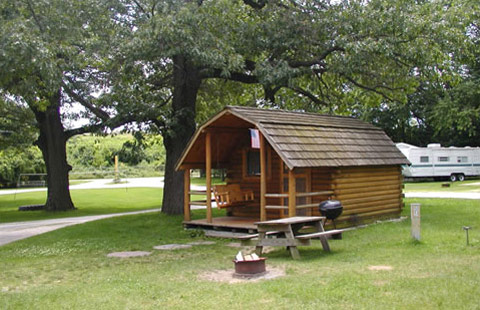 Take a look at the KOA website for more information and reservation information!
3. Lake Alexander RV Park
Private & Group Camping in Kankakee
Located within an hour of Chicago, this family-owned and operated campground is located on 120 acres of natural wooded beauty filled with an abundance of local wildlife. Lake Alexander RV Park has amenities for all. Have children? They'll love playing on the campground's playground! Love fishing? Take your boat out onto the Kankakee River! This river is a great place to fish. If you come camping here in early August, you have to check out the Momence Gladiolas Festival and the Kankakee County fair!
Lake Alexander RV Park is able to accommodate both tent and RV Campers. Their spacious campsites offer water and electricity, and restrooms and showers are available at the campground. This campground also provides access to a sanitary station and holding tank pump-out service. Lake Alexander RV Park is pet friendly and prides itself on its family atmosphere. To plan your next trip, check out their website here!
Additional Resources
If all of the sites we've shown above are full, take a look at other nearby campsites in Illinois, or check out Starved Rock in our Lasalle County guide for canyons and waterfalls only 90 minutes away! If that's a little further than you were hoping, Will County also has some great campsites a bit closer to home.