With one of Illinois' largest state parks and a great county forest preserve, we have found two great options for camping in DeKalb, IL. Enjoy the Muskie Capital of Illinois or relive your scouting days in an old scout camp for your next weekend getaway!
2. McQueen Forest Preserve
Best Group Camping in DeKalb County
Just outside the Potawatomi Woods Forest Preserve and the Kishwaukee River State Fish and Wildlife Area, a camp rests on top of a small bluff overlooking the south branch of the Kishwaukee River. This camp in the McQueen Forest Preserve is a 48-acre former Boy Scout destination. Camping in DeKalb County at this location offers canoeing, hiking, cross country skiing, and fishing opportunities depending on the season and weather.
About a half-hour drive away, this small privacy-oriented camping near Rochelle is ideal for a group with twelve tent sites. You may also reserve and rent the open and enclosed shelters if that better suits your taste.
Give them a call for more information at (815) 895 – 7191!
1. Shabbona Lake State Park
Best Camping near DeKalb, IL
About an hour's drive from Chicago lies Shabbona Lake State Recreation Area, a convenient place to enjoy a lake nestled in 1,550 acres of prairie. Meadows, woods, and a natural fen transition into one another offering a beautiful look into the landscape ecology of Midwest prairies. Eight miles of trails wander the landscape for hikers and cross-country skiers, and 744 acres are available to deer, waterfowl, and dove hunters (satellite hunting areas cater to a wider variety of prey).
Swimming is prohibited at Shabbona Lake on account of this lake being a premier fishing lake in Illinois. This stocked lake has won many awards, including being voted "Muskie Capital of Illinois" in 2011. Besides fishing, water activities on the lake include boating and winter skating. A camp store offers groceries, firewood, and other supplies.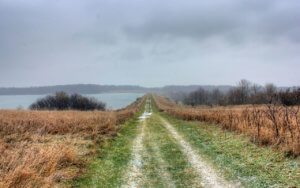 This SRA near Rochelle, IL, boasts 150 Class A Premium campsites, 90 of which can be reserved. All sites have electricity, a picnic table, a fire ring, and vehicle access. Two rustic cabins on Lake Shabbona's shore are available year-round, and the two group camping areas have space for 50 people each; these areas have water and toilets but no electricity. For anyone camping in DeKalb, IL, you can make a reservation here and be assured of having a memorable stay.
Find the next available date at Shabbona lake here!
Haven't Found Your Perfect Campsite?
More state parks, private campgrounds, and primitive campsites are waiting! Check out 14 more of our favorite campgrounds north of I-80.
Additional Resources
If you McQueen and Shabonna are all full up and you'd like to explore other campgrounds nearby Dekalb or Rochelle – Take a look at our Illinois State Camping guide for a county near you! We have already taken care of the leg work and found the best campsites nearby: