As the largest State Park in Northern Illinois, Rock Cut State Park has a ton to offer car campers and RV campers alike at this 3,000-acre escape to nature! We took a weekend to go and check out what Rock Cut has to offer. We found spacious campgrounds, shady groves, and enough activities to go back for a month!
Summary
Rock Cut State has about 270 campsites ranging from Class A to Class B with Shower with additional equestrian-only camping that we did not venture out to. What made Rock Cut different from the other Illinois campgrounds we've reviewed was the privacy afforded within our campsite and sheer scale of options to stay entertained during the day. We would recommend Rock Cut to anyone looking to find some great camping within a couple of hours of Chicago especially!
Rock Cut State Park Camping Tips:
Reserve early for a chance to snag one of the riverside campgrounds
Grab campsites on the outside of the loops for more privacy and shade
Use the campsite photos on ExploreMoreIL to check the firepit type before reserving
Head to the shower building if you want a bathroom with running water
In-Depth Review: Rock Cut State Park
Campsite
We stayed at campsite 510 within the Prairie View loop. The campsite itself was at least 15 feet through the trees to our neighbors on either side giving us far more privacy than we expect from most State Park campgrounds. The inside of the loop was far less private, with fewer trees segmenting the campsites and more open grass between each one. We would strongly recommend looking for sites on the outer loop in any area of the campground when reserving.
The best campsites were in the Hickory Hills loop – We reserved too late to snag a spot but with good planning and a little luck, you may be able to reserve one of the eight campsites that back up directly to Pierce Lake. We saw campers launching kayaks straight from their site, making it incredibly easy to hit the water for a sunrise or sunset paddle.
The campsite itself was relatively even with few major rocks preventing the stakes from going in. The outer loop had great shade cover relative to the inner loop. The inner loop does still have some but not nearly as many trees.
Each campsite comes with the classic picnic table and a firepit BUT the firepits were different in some sites than others. The first type (A in the photo below) was the more traditional in-ground fire pit with a grate you could pull on top. Lots of surface area to make a roaring fire for smores! The second type we saw (B) was raised off of the ground and suited more specifically for cooking.
Firepit Type A: In-Ground
Firepit Type B: Raised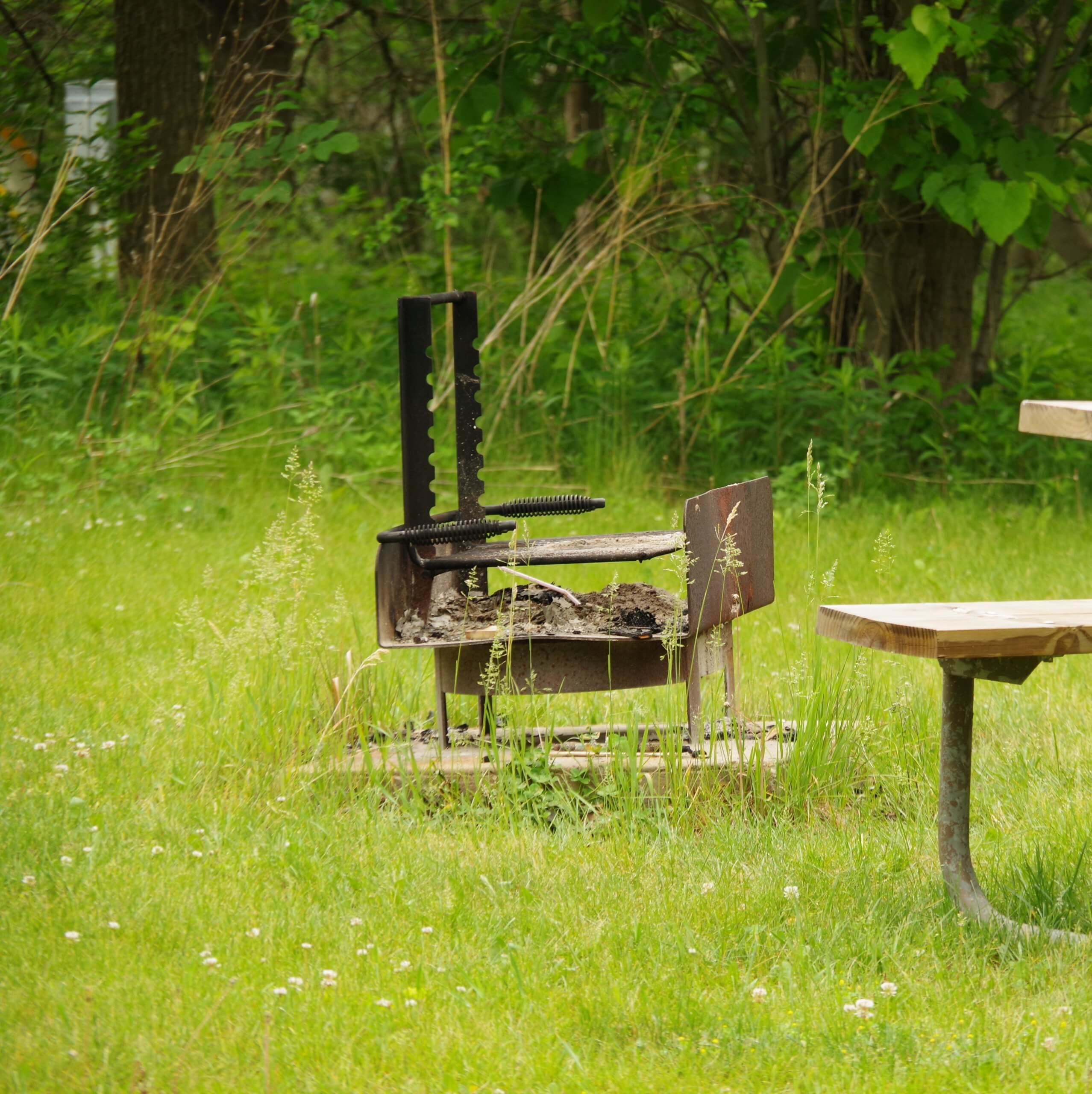 Personally, we prefer the in-ground (A) over the raised (B) as they give more flexibility in changing the type of fire you build and how large you can safely make it.
Facilities & Amenities
Bathrooms & Showerhouse
The bathrooms and shower house were cleaned daily but weren't the most sparkling facilities we've seen before. There were still some dead bugs in the corners and floor greeting you as you entered the stall. They were far better than the vault toilets that dot the campgrounds so we would still recommend heading to the shower house if you are looking for a nicer bathroom experience!
We didn't try out the showers this trip but the water coming out of the sink was hot!
Camp Store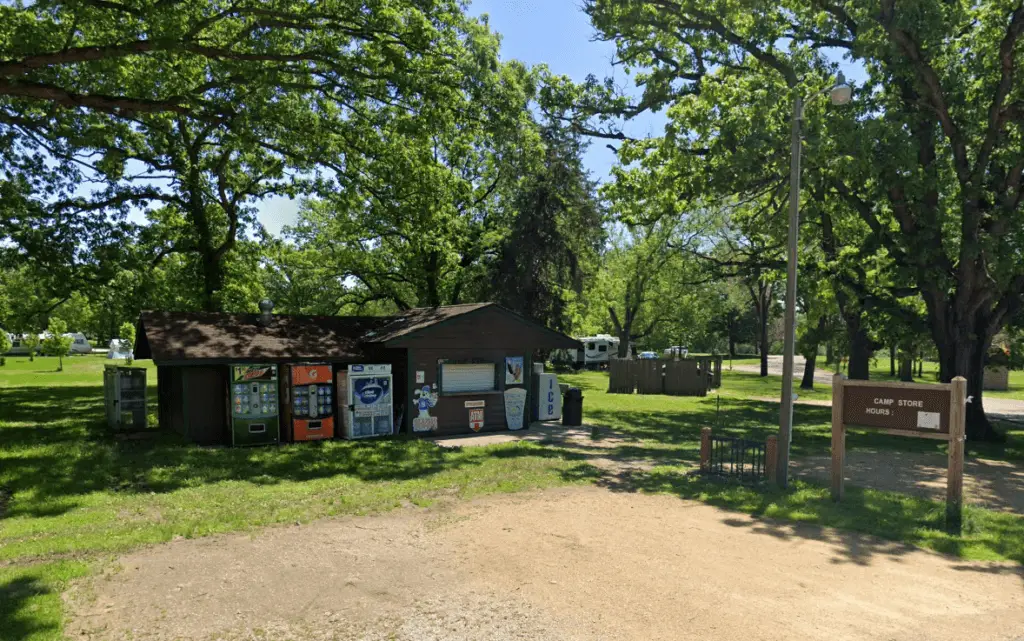 The camp store offered firewood and a little bit of everything else. From fishing lures to stakes to smore's materials to drinks – if you forgot anything on your trip, you might be able to find a quick replacement here! They offered two types of firewood, a $5 bundle of traditional split wood logs and a $3 bundle that was filled with 'odds and ends'. The odds and ends bundle had thick chunks of log, some sections of large knots, and thin flat end pieces.
We ended up going for a mix as the traditional logs are easier to light and build initial fires with but the thick chunks would burn longer (not to mention a $3 bundle of wood is a fantastic deal!)
Environment
We were shocked at how quickly the city melted away when we entered the State Park. There might be a Walmart only 15 minutes away but you'd never know once you settled into your campsite. While there was still some highway noise, especially from what sounded like street racers on Saturday night, it was no louder than most State Parks in Northern IL.
While we didn't encounter any mammalian wildlife, the birds seem to make that forest home and we were greeted by no less than a dozen different birdsongs and hoots as we woke up each day.
The park itself is a mix of forest and reclaimed prairie that is still being rehabilitated to its former glory. Rock Cut State Park has recorded over 100 different types of wildflowers that change between Spring and Summer to provide an ever-changing landscape.
Activities
Rock Cut State Park has something for almost everyone! We found it tough to choose between heading to the lake concession stand to rent a pedal boat, kayak, or small motorboat or hitting the forty miles of hiking trails that are spread throughout the park. If you are into mountain biking – there are 23 miles of mountain bike trails shared with hikers.
Recommended Hikes
Willow Creek Trail – Picked up a little outside of the Hickory Hills campground loop, Willow Creek is an out and back that goes along its namesake creek for about 5 miles (10 miles total)
Pierce Lake Trail – Accessible from the Hickory Hills campground loop, this trail is 3.6 miles long and goes around the entire lake!
Perimeter Loop – Walk the wooded perimeter of Rock Cut State Park in this 9.5 mile loop easiest to access by parking at the lakeside lot near the concessions
Across the park from the campgrounds is a swimming beach ($5 fee) and dog training area (basically an off-leash area) for more fun and miles of additional trail if you brought your pets along.
Service Quality
Everyone we met during our time at Rock Cut was pleasant and helpful! The check-in process was simple since we had reserved and paid on ExploreMoreIL beforehand. They only required confirmation of a few reservation details before we were able to set up camp!
We saw the campground hosts making their rounds a few times during the day to keep an eye on things but we never had a reason to interact with them.
Verdict: Rock Cut State Park
We will absolutely be visiting Rock Cut again in the future! The private campgrounds, ever-present nature, and multitude of activities give us reason to head back again soon!
FAQs
Is Rock Cut State Park Free?
Access to the western portion of the park and its many trails is completely free! To access the eastern parking lot including the swimming beach, dog run, and other trails, will cost $3. There are additional fees for campsite reservations.
Is alcohol allowed at Rock Cut State Park?
No – Alcohol is not permitted for consumption at the beach, campgrounds, or other areas in Rock Cut. The DNR has a ban on alcohol at many parks (however, in our experience if you aren't disruptive, the campground host won't disrupt you either)
Are dogs allowed at Rock Cut State Park?
Yes! As long as they are kept on leash everywhere but the dog training area, you can bring your furry friend to any part of the park!