After being closed for almost three months in 2020, Illinoisans were able to get out to the parks all year – and over 38 million took to the trails! Based on reports by the Illinois DNR obtained by Midwest Camping – we identified the most visited Illinois State Parks. See the winners and losers across the state, avoid the crowds or join in on the fun below!
Top 10 Most Popular Illinois State Parks by Number of Visitors
Honorable Mention – Moraine Hills State Park | 800K Visitors
Opened in 1976, Moraine Hills State Park has one of the only undeveloped glacial-fed lakes in Illinois leaving a pristine natural lake for fishing, hiking around, and boating! Under two hours from Chicago, this park is a popular destination for anyone looking for a little peace from the urban noise.
In 2020, Moraine Hills saw a burst of popularity, helping it leap into the top ten list from #13 in 2019 as a new entry into the most popular Illinois state parks list. Unfortunately, that didn't last into 2021 and they have now dipped back down to their #13 rank. This just means you'll have an easier time getting a campsite at least!
10. (New) Giant City State Park | 900K Visitors
Giant City State Park offers one of the best options for exploring state parks near Carbondale. Experience the captivating natural beauty that makes up a state park with at least one of the eight trails located within the park!
If you're looking for something else to do besides hiking, there are ponds for boating and fishing and bluffs for rock climbing and rappelling in the park.
Giant City jumped up to the top ten list this year but is still a few hundred thousand visitors from their 1.2M count in 2019. They've been undergoing some construction in the last couple of years, likely contributing to the swings in attendance.
9. (-) Fort Massac State Park | 1.1M Visitors
Bordered by the Ohio River, Fort Massac State Park saw just under 1 million visitors last year! As the first state park founded in Illinois, people have been enjoying the 1,500 acres of forested lands at the southern tip of Illinois for hiking, camping, or learning about the old fort maintained for over 110 years!
8. (▾ 2) Adeline Jay Geo-Karis Illinois Beach State Park | 1.2M Visitors
Adeline Jay Geo-Karis Illinois Beach State Park is located along the beautiful Lake Michigan. Enjoy swimming in the cool waters on a hot sunny day or take a relaxing stroll along the beach to watch the sunset in the evening. As the only state park offering camping along the lake, Illinois Beach campgrounds are extremely popular during the summer months, so a reservation is recommended!
7. (-) Rock Cut State Park | 1.2M Visitors
If you want to go camping or exploring in Winnebago County with immediate access to the vast outdoors, look no further than Rock Cut State Park. This park's 3,092 acres contain two lakes for water activities like fishing, swimming, boating, and winter skating. There are trails for hikers, horseback riders, mountain bikers, and cross country skiers!
With tons of campgrounds and 40 miles of hiker trails, you can spend a whole week here and just scratch the surface! Activities plus the larger towns and cities nearby helped get Rock Cut on the list as the seventh most popular Illinois state park!
6. (▾ 1) Kickapoo State Recreation Area | 1.2M Visitors
Over 1.2 Million people traveled to eastern Illinois to enjoy the outdoors at Kickapoo. Just a ten-minute drive from Danville, IL, these 2,800 acres of forests, lakes, and hillsides are lush with opportunities to explore. Split in two by the Vermillion River, this park has six lakes and plenty of trails to come back again and again for making it the fifth most popular Illinois state park!
5. (▾ 1) Wayne Fitzgerrell State Park | 1.3M Visitors
Wayne Fitzgerrell State Recreation Area offers easy access to the U.S. Army Corps of Engineers' 19,000-acre Rend Lake Reservoir to enjoy hunting, fishing, camping, picnicking, horseback riding, hiking, and other outdoor sports. As the most popular state park in Southern Illinois, 1.2 million people flocked to the park to spot the American bald eagle, red-tailed hawks, and a variety of mammals such as the white-tailed deer around the lake.
4. (▴ 4) Kankakee River State Park | 1.3M Visitors
Nestled along the beautifully scenic Kankakee River, the Kankakee River State Park offers something for everyone. It's no surprise that Kankakee River is in the top ten most popular state parks in Illinois. Last year, they saw an explosion of growth, likely driven by the long-awaited reopening of the Potawatomi campgrounds after five years of construction.
Enjoy fishing for smallmouth bass, catfish, walleye, and Northern pike. Check out Rock Creek for a great angling spot or bring your boat to fish out on the river! If you're looking to experience the captivatingly stunning nature this park has to offer, be sure to try canoeing down the river or camping for a weekend!
We were even part of the numbers for last year – Check out our trip to Kankakee River State Park!
3. (-) Clinton Lake State Recreation Area | 1.5M Visitors
Known for its 4,900-acre lake, Clinton Lake State Recreation Area hosted 1.5 million visitors in 2020! With a sandy swimming beach and plenty of hunting and fishing opportunities, Clinton Lake has long been a favorite in east-central Illinois.
2. (▾1) Starved Rock State Park | 2.4M Visitors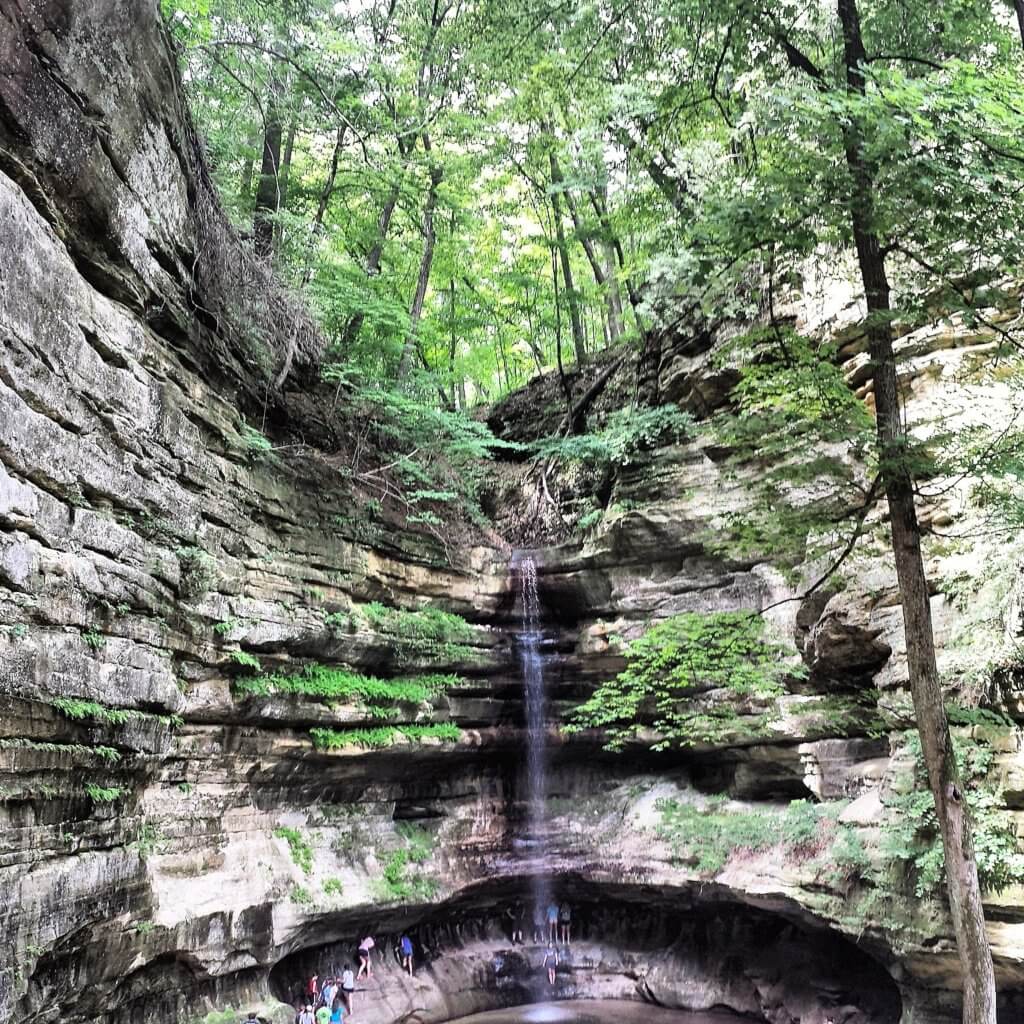 Is Starved Rock the most popular state park in Illinois?
While Starved Rock has long been an Illinois favorite, in 2021 the park seemed to reach its capacity and was overtaken by another park! Starved Rock is the second most popular park in Illinois with over 2.4 million visitors in 2021! Less than two hours from Chicago, this state park is perfect for waterfall chasing and exploring the canyons throughout the landscape.
The park fills up to capacity regularly, leading to state officials closing the parking lots similar to popular national parks! Be sure to check the DNR Twitter account if you're trying to get out there during the peak summer season.
1. (▴1) Hennepin Canal State Trail | 2.7M Visitors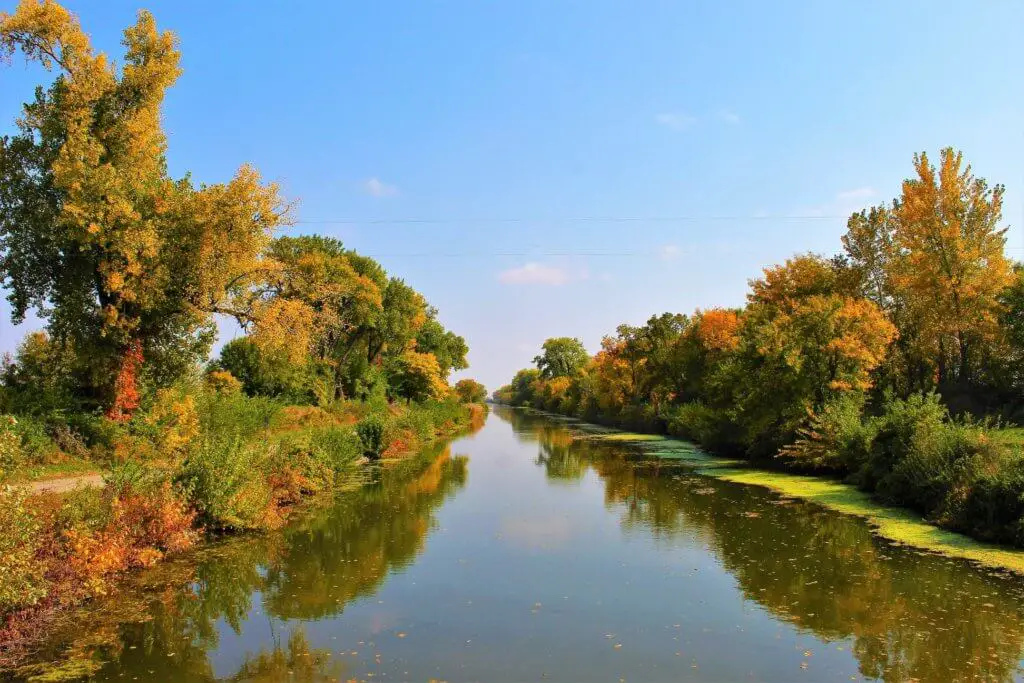 Hennepin Canal State Trail is unique in that it is over 100 miles long! Built along the namesake canal, this park gives visitors the opportunity to walk from the Quad Cities all the way to the Illinois River! No surprise that most visitors will make much shorter hikes along the protected canal, leading Hennepin Canal to be the most popular Illinois state park!
What is the most state park in Illinois?
Jumping up from being #2 in 2020, Hennepin Canal State Trail hosted over 2.6 million people in 2021, beating out Starved Rock! The long length of the trail helps it attract visitors all over the state.
Tool: Explore all of Illinois' State Parks
See which is popular near you!
Conclusion
With almost 35 million total visitors across the Illinois state parks in 2020, the top ten contributed to over 13 million of the total! That's more than 35%! If you're looking to avoid the crowds when camping near Chicago or finding great state parks across Illinois, check out our guides!
Want to know more about Illinois State Parks? Check out our other articles!