When it comes to camping near Rochelle, the Rock River provides unique topography and a setting for activities that can be hard to find in other parts of Illinois. We've found the six best campgrounds in Ogle county to give you a variety of experiences to explore on your next outdoor adventure!
6. Castle Rock State Park
Primitive Boat Camping in Ogle County
Located along Rock River in Ogle county, Castle Rock State Park contains natural resources that are unique to Illinois such as the sandstone bluff that inspired the park's name. This state park also offers a wide variety of activities to its visitors. Those who enjoy fishing will find themselves catching mostly catfish, but some bass, northerns, and walleyes are also available to catch. Castle Rock State Park also provides a boat ramp open to the public.
Hikers have the opportunity to trek across seven miles of trail where they will be able to view woodland animals and birds local to Illinois. Some squirrel, turkey, and deer hunting is available. Hunters can contact the park office for more information.
Castle Rock State Park provides only one type of campsite – primitive campsites only accessible by canoe or boat. Camping at one of these primitive sites is a great way to disconnect from the outside world and deeply connect with nature but can be difficult to get to. There is not much information about camping at Castle Rock State Park on their webpage, but reviews from previous campers claim the sites contain picnic tables, fire pits, and a shared outhouse. Make sure you try to get to your campsite before dark to make canoeing/boating and setting up easier!
5. River Road Campground
Private Riverside Camping near Rochelle
Nestled on the east bank of Rock River, River Road Camping and Marina is a private campground located on 30 acres of land. This campground has many activities that the whole family will love! Try taking a dip in their heated pool on a cool summer evening! A boat ramp and launch are available along with canoe rentals. On land, River Road Camping and Marina also offers volleyball, basketball, a game room, and a playground. Forget your lighter or firestarters at home? Don't fret, just check out the campground's general store!
River Road Campground and Marina is a full-service campground. Tents and RVs are allowed. Some campsites have electricity and water hookups, but other campsites have no electricity, water, or sewer hookups. Make sure the campsite you reserve has the amenities you need! A water faucet with drinkable water is available along with firepits and picnic tables. Reservations can be made online or by calling the campground!

4. Lake Ladonna
Family Camping near Rochelle
Lake Ladonna Family Campground makes you feel encompassed by nature with its magnificent large oak trees and natural streams that run through the campsites. Lake Ladonna values being family-friendly and ensures all campsites are within walking distance of any section of the campground. One of the most exciting parts of this campground is its beach! Lay your towel on the sand and soak up the sun or build the world's tallest sandcastle! Hiking and fishing are available nearby.
Lake Ladonna Family Campground hosts events throughout the summer such as karaoke weekend, a bingo marathon, and a talent show! Check out the event calendar on their website to see what will be going on while you are camping or even plan your trip around an event that interests you!
Tent and RV campsites are available at Lake Ladonna Family Campground. There are a total of 75 sites, some shaded and some open. Each site includes a picnic table, water and electric hookup, and a place for a fire. Large campsites are available for clubs and groups.
Cabins are able to be rented at Lake Ladonna, and all of them are air-conditioned and able to accommodate up to six people. Pioneer cabins are furnished, have electricity, and contain a microwave oven. These cabins also include a private deck where your water supply, fire pit, and picnic table are located. Deluxe cabins include a full kitchenette a full bathroom with a shower, and a firepit and picnic table on the porch. Be sure to bring your own linens, towels, toiletries, and kitchen utensils at the cabins do not provide them!
Reservations can be made by calling Lake Ladonna Family Campground's office for this campground 30 minutes west of Rochelle.
3. Hansen's Hideaway
Private Campground in Ogle County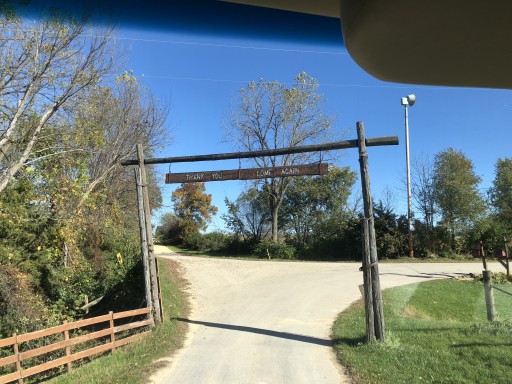 Built on 100 acres of land and located in the heart of Illinois is Hansen's Hideaway Ranch and Family Campground. Families will be able to keep plenty busy when camping here by utilizing the large variety of activities Hansen's Hideway offers. Test your skills in a bean bag or horseshoe competition! If outdoor games aren't for you, try out the video game arcade!
This private campground also has swimming and hiking for its guests to use. When you find yourself feeling hungry, make sure to check out their snack bar for a bite to eat!
Hansen's Hideaway Ranch and Family Campground contain both primitive and hookup campsites. Campers have access to a shower building and restrooms with flushable toilets. Pets are allowed but are required to be on a leash at all times.
Reservations are required for weekends and holidays and can be made seven days a week by calling the campground. Consider camping here if you enjoy supporting local businesses and if having a wide variety of fun amenities is important to you!
2. Lowden State Park
Another Great Ogle County Campground
Lowden State Park, named after former governor Frank O. Lowden, is filled with majestic views and foliage. Beautiful nature can be explored on the park's four miles of hiking trails. Swimming in the river is prohibited, but boating is allowed. Use the boat launch to water ski down the river! If water skiing isn't your favorite activity, perhaps you would enjoy spending your time catching bass, bluegill, sunfish, and walleye.
The most unique aspect of Lowden State Park is the 50-foot concrete statue that is a tribute to all Native Americans (though most people associate the statue with Chief Black Hawk). While the view of this statue is spectacular at any time of day, go see the statue while the sun is setting as it appears to come to life in a way. After your hike, be sure to stop by the campground's refreshment stand to grab a cold drink or some delicious ice cream.
The campground at Lowden State Park includes 80 Class A campsites, 38 Class B/S sites, and 8 Class D primitive sites which can only be accessed by hiking. The Class A campsites provide electricity, access to a shower building, and a sanitary dumping station for RVs and trailers. Class B/S campsites provide do not provide electricity but do provide access to a shower building. The primitive campsites offer a true wilderness experience and have an outhouse for a restroom. They are all less than a half-mile away from the parking, most significantly closer than that, making it a great place to try primitive camping near Rochelle!
One cabin is available to rent and it has two sets of bunk beds, a full-sized bed, and electricity. Reservations for the campsites and cabin can be made on the ExploreMoreIL website.
1. White Pines Forest State Park
Best State Park Camping Near Rochelle
White Pines Forest State Park is located in the heart of the Rock River valley and is filled with a dense forest filled with breathtaking trees that share moss-covered cliffs. Whether you chose an easy walking path or a more difficult hike, you'll be able to see awe-inspiring nature on your journey such as vine-covered limestone bluffs, blossoming spring flowers, and whispering pines. Several shaded picnic areas are located along Pine Creek and provide water, firepits, and tables. If you are visiting White Pines Forest State Park during the winter, bring your skis and try out one of the park's cross-country skiing trails.
There are 103 class B/S campsites available at White Pines Forest State Park. The campsites provide access to a shower building with flushable toilets. ADA campsites are available for those that need them. The Illinois DNR cautions that the campground occasionally closes during March and April because of soft ground conditions and recommends calling ahead during these months to check the status of the campground. Youth group campgrounds are also available to be reserved.
Reservations for campsites at White Pines Forest State Park can only be made using the ExploreMoreIL website. The White Pines Lodge offers 23 guest rooms that have air conditioning, televisions, a shower, a gas log fireplace, a refrigerator, and a coffee maker. The lodge also houses a restaurant, historic lounge area, and gift shop.
The unique foliage, geography, and variety of available trails make White Pines our preferred spot for camping near Rochelle!
Conclusion: Other Options for Camping Near Rochelle
Haven't found an available campground or still looking for more options for camping near Rochelle? Check out our other campground guides for nearby counties!
Other Nearby Illinois Campgrounds