Seeking out a great outdoor weekend camping near Kewanee? Check out these Henry county campgrounds for great options near the quad cities for families, history buffs, bikers, and more! Great for all seasons, these campgrounds offer cabins and seasonal spots for every type of camper.
5. Atkinson Motorsports Park
Do you love riding on thrilling trails with your ATV or Dirtbike while camping near Kewanee? Atkinson Motorsports Park was made for you! This motorsports park provides some of the most awesome riding experiences in northwestern Illinois. Maneuver exciting the trails, hill climbs, and mud bogs! Explore the 200 acres of unrestricted off-road riding the park has to offer! Looking for a slightly less riveting experience? Golf carts are also allowed and can be used to explore the beautiful scenery! Young riders can gain experience using the park's children's track!
Atkinson Motorsports Park offers 28 campsites equipped with electric and water hookups, and some campsites also have sewer drainage. The campsites can have RVs and motorhomes up to 40 feet. For campers who reserve a campsite without sewer drainage, a dump station is available at the campground. The campground also offers six individual shower rooms that offer a shower, toilet, sink, and privacy. Campers can gather around the communal fire rings and share their riding stories from the day.
4. Francis Park
The innovative house of Frederick Francis was built in 1890 and is famous for having being fueled by the wind created by a windmill built by Frances instead of electricity. The historical house is located only three miles east, it is a great option for camping near Kewanee and learning about local history. Tours of the house, also referred to as the Woodland Palace, are given, and while reservations are not required, they are strongly recommended.
The campground at Francis Park offers 60 RV spaces with electric hookups and 60 tent campsites. RVs are restricted to a maximum length of 60 feet and a maximum width of 20 feet. A dump station is available to use, and water is only available at a centrally-located part of the campground. Campers also have access to restrooms.
Challenge your crew to a game of baseball and take advantage of the park's baseball diamond! If the baseball game ends in a tie, turn to the horseshoe court to determine a winner! Besides having areas for games, Francis Park also has several walking trails that weave through 40 acres of woodland.
Francis Park does not accept reservations in advance so be sure to arrive early to increase your chance of securing a spot!
3. Scott Family Park
Colona Scott Family Park is centrally located between the major highways and interstates near the Quad Cities. Only minutes away from the Quad Cities, this campground and park is a practical choice for camping near Kewanee if you're interested in visiting them during your trip!
Colona Scott Family park includes amenities and activities that are accessible during both rain and sunshine. The most unique and exciting amenity included is an indoor pool! You won't be disappointed when it downpours because you'll be having too much fun in the pool! If you're lucky and have beautiful weather during your stay, you can enjoy paddle boating or fishing on the water. Kids will be entertained for hours with the game room and playground!

Seasonal, monthly, weekly, and nightly RV campsites can be reserved at Scott Family Park. These campsites include water and electric hookups, and sewer drainage is available for an additional cost. Tent camping is also welcome at the campground. Primitive campsites and campsites with access to utilities are the two options for tent campers. Restrooms and a shower building are also available.
Cabin rentals are an additional lodging option. These fully-furnished cabins include air conditioning, a television, and a private deck. Reservations for all campsites and cabins can be made by calling or emailing Colona Scott Family Park.
2. Geneseo Campground
Best Private Camping Near Kewanee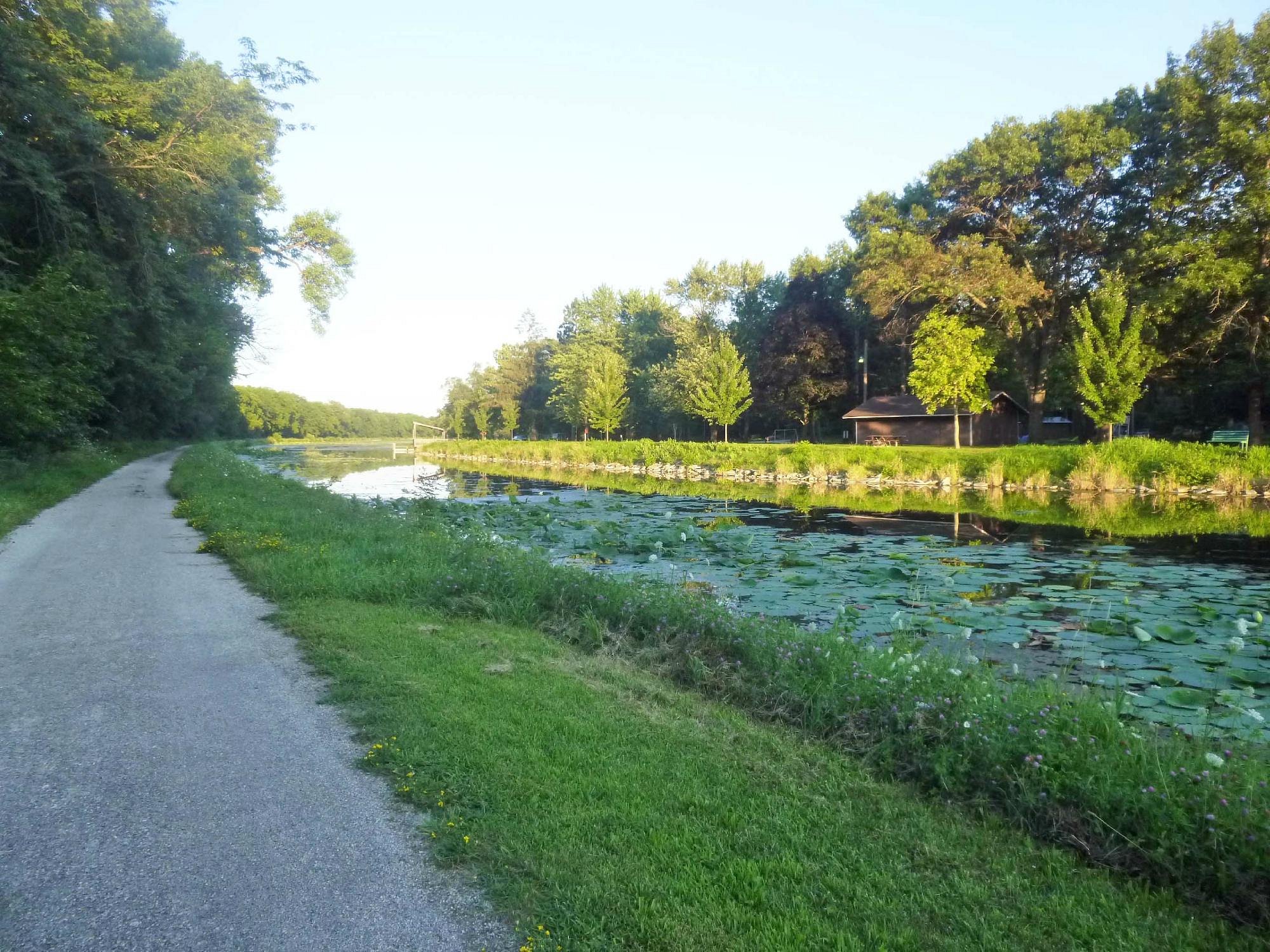 Geneseo Campground is a perfect option for camping near Kewanee if you have an interest in history. This campground is located only minutes away from the Victorian architecture, craft shops, and antiques of Geneseo, IL! Geneseo Campground is also a great campground if you value amenities and activities.
Want to get out on the water but don't own a boat? The campground has you covered! Canoes and kayaks are available to rent. Canoes and kayaks aren't the only items you can rent at Geneseo Campground! Fat tire bicycles, surrey carts, and pedal carts will help you travel around in style! If you prefer traveling on foot, take a hike on the campground trails. Children will have so much fun using the playground and splash pad!
You can enjoy relaxing to music on most Saturday evenings by heading to the camp commons area where you'll be able to listen to a variety of acoustic music! Guests are encouraged to bring their own instruments and join in! Forget your lighter or favorite snack? Or maybe you want to commemorate your stay with a souvenir? The camp store has you covered!
There are 40 pull-through campsites equipped with water, electric, and sewer, 22 sites that only offer water and electric, and 10 tent campsites with electric. Free WiFi is available! In addition to campsites, four cabins and one yurt are available to reserve. The cabins contain one double bed and two twin beds. The cabins are also air condition and include a front porch!
For a unique lodging experience, reserve Geneseo Campground's yurt. The yurt contains one queen bed, two double beds, and two single beds. It can sleep up to eight people! You'll be able to see rays of sunlight shine through the yurt's skylight, be comfortable with air conditioning, and take advantage of the large lush lawn! Reservations for all campsites, cabins, and the yurt can be made through Geneseo Campground's website.
1. Johnson-Sauk Trail
Best State Park Near Kewanee
Looking for state park camping near Kewanee? Check out Johnson-Sauk Trail State Recreation Area! This state recreation area is breathtaking year-round with its fields of wildflowers bloom in the spring and giant oak trees changing colors in the fall. Johnson-Sauk Trail features an abundance of recreational activities. You're sure to find something you'll love! Take advantage of the fishing and boating opportunities and you might get lucky enough to catch largemouth bass, northern pike, or bluegill!
If being on the water isn't really for you, take a hike on Johnson-Sauk Trail State Recreation Area's four miles of trails. Will you choose a simple stroll through the prairie, or will you choose to tackle the eight-mile loop around Lake Johnson?
If you're planning on visiting in the winter, this state recreation area has exciting and chilly activities for the whole family! Try cross-country skiing, sledding, ice skating, or ice fishing! Hunting at Johnson-Sauk Trail is a very popular activity. It's no surprise because of the wide variety of animals that are able to be hunted. Pheasants, deer, doves, squirrels, and turkey are available to hunt!
Inside Johnson-Sauk Trail State Recreation Area is the Chief Keokuk Campground. The campground contains 70 Class A campsites for both RVs/trailers and tents. There are also 25 Class C campsites that are only available to tent campers and are not accessible with a vehicle. Access to a shower building and a sanitary dump station are available in the camping area.
One primitive cabin is available. The cabin includes fire pit, table, grill on the outside an a queen bed, two bunkbeds, a table, and a bench on the inside. No cooking or pets are allowed inside the cabin. An additional campground located inside Johnson-Sauk Trail is Blackhawk Group Area. This campground is only rented to organized adult and youth groups. Reservations for both campgrounds and the cabin are available on ExploreMoreIL.
Other Options for Camping Near Kewanee
Check out our map for the whole state of Illinois or use the buttons below for other campground options near Kewanee!
Other Nearby Illinois Campgrounds