With so many options and activities, Starved Rock can be overwhelming for first-timers. Our guide to the most frequently asked questions about Starved Rock State Park will help put your mind at ease and answer those burning questions keeping you up at night.
Is Starved Rock a national park?
No, Starved Rock is a state park, not a national park. Starved Rock is owned by the State of Illinois and operated by the Illinois Department of Natural Resources (DNR). Unfortunately, there are no national parks in Illinois, however, the DNR has over 100 state parks and the state holds hundreds of acres of national forest in southern IL to make up for the lack of National parks!
What to do if Starved Rock is full?
If Starved Rock State Park is full (which happens often in the summer and holiday weekends) you can explore nearby Mattheisen park or head to another park near Starved Rock. The parking lot usually opens up again just a few hours later so keep an eye on the DNR's Twitter for updates!
How crowded is Starved Rock State Park?
As the most popular state park in Illinois, Starved Rock can get crowded during the summer and on holiday weekends especially. Keep an eye on the IL DNR Twitter as they'll post any parking lot closures or other capacity restrictions. Be sure to head out early to have a better chance of keeping your day plans intact!
How long is Starved Rock trail?
Starved Rock trail itself is only 0.3 miles long but the park holds over a dozen miles of accessible trails taking you in and out of the canyons carved by a millennium of glacier movement.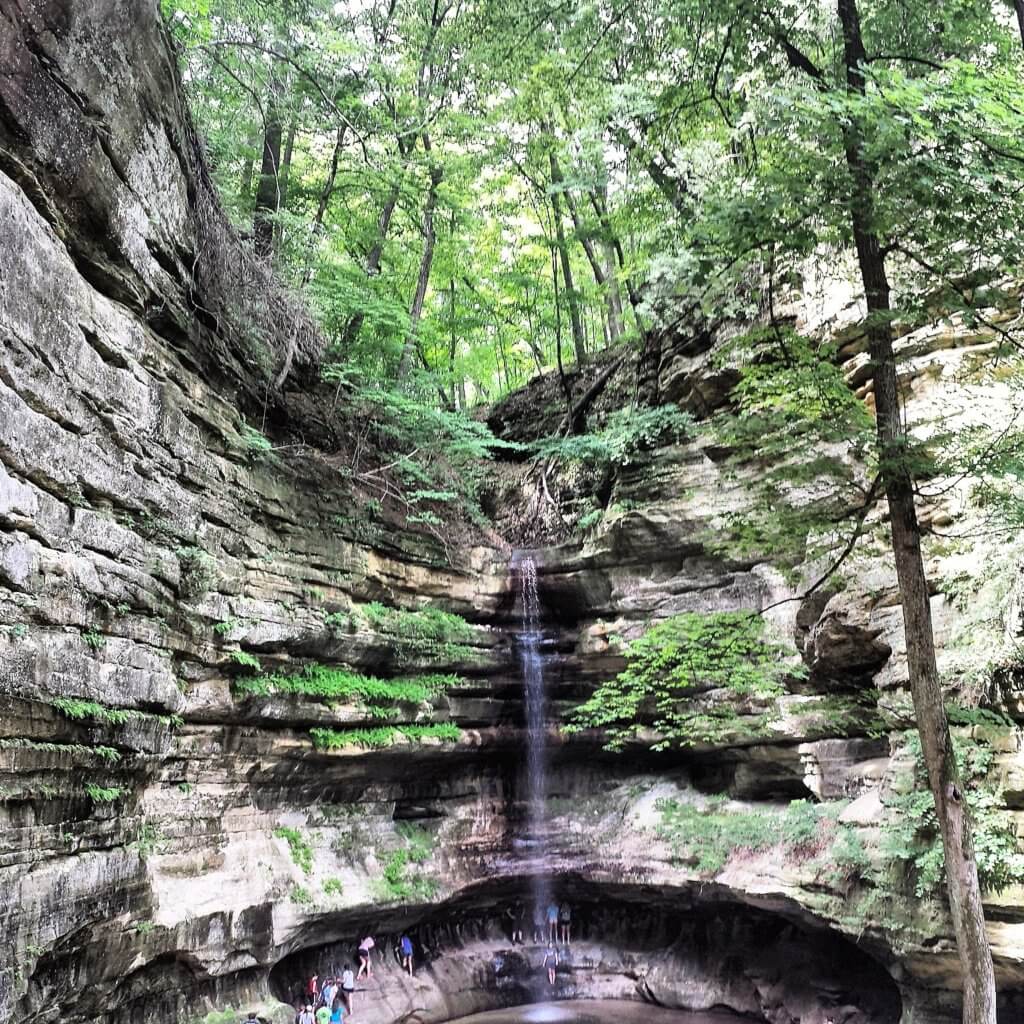 Which trail at Starved Rock has the waterfall?
There are waterfalls accessible through most of the canyon hikes, especially after a rainy week, but the most well-known waterfall can be found after a 1.5-mile hike out to the St. Louis canyon. You'll dead-end deep into the canyon where a waterfall may be flowing into a small pond at the bottom of the canyon.
Is Starved Rock dog friendly?
Absolutely! Starved Rock is very dog-friendly as long as you keep your pooch on a leash. If you want to take them off-leash, consider checking out another DNR site with special areas for dog running, like Rock Cut State Park.
Is Starved Rock stroller friendly?
While the state park lodge is stroller-friendly, the trails themselves are not. Most trails have stairs or are unpaved which will make it challenging for strollers to easily maneuver across the park. We would not recommend Starved Rock for strollers if you plan to hike. Search nearby for ADA-accessible hiking trails for more stroller-friendly options.
When are the eagles at Starved Rock?
The best chance to spot bald eagles at Starved Rock is in colder weather (December, January, February). While this means you'll have to brave the winter chill – the eagles congregate around the locks which break the ice to allow the eagles to feast on fish in the Illinois River. The colder it is, the less open water there is for them to hunt in, the more eagles you'll find by the locks!
Can you fish at Starved Rock State Park?
Yes! With the Illinois River bordering the park, fishing is permitted from boats launched from the west side of the park (as long as the boats stay away from the dam)
Can you camp at Starved Rock?
Can you bike at Starved Rock?
Other than on the roads that run through and around the park – you may not bike on hiking trails at Starved Rock. Unfortunately, the park does not have any dedicated mountain biking trails and all trails are specifically provisioned for hiking only. For bicycling near Starved Rock – check out the I&M canal trail
Can you kayak at Starved Rock?
Yes! Kayaks can be rented at the park from May through September.
Can you grill at Starved Rock?
Absolutely! There are shelters and campgrounds where grilling and barbecuing can occur. You'll need to bring your own charcoal or wood though!
Can you drive through Starved Rock?
Yes, Starved Rock is cut almost in half by E875th road between 71 and E 8th streets if you're looking for a quick drive to admire the fall leaves.
Conclusion
Starved Rock AND Mattheissen full? Check out more state parks and campgrounds across the state for more options for outdoor exploration!