At the tail end of the 2021 camping season, Midwest Camping took a few friends to Kankakee River State Park to review their facilities, campground quality, and more so you know exactly what to expect the next time you're in Kankakee!
Summary
Kankakee River State Park centers around the namesake river, covering over ten miles of the river on each side for opportunities to camp, fish, hunt, and more! What separates Kankakee River SP is the dense forest area that provides privacy in campsites and long but moderate trails for any kind of hiker to choose the right length for them and embark straight from your campsite!
We would recommend Kankakee River State Park to anyone looking to find some great camping within a couple of hours of Chicago for families and beginners given its proximity to nearby Bourbonnais and Kankakee!
Kankakee River State Park Camping Tips:
Plan in advance to take advantage of the nearby river – Conditions can be unsafe without proper preparation or guidance

Grab campsites on the outside of the loops for more privacy and shade

Head to the shower building in the Hawthorn loop if you want a bathroom with running water
In-Depth Review: Kankakee River State Park
Campsite
We stayed at campsites 21 & 23 within the Oak loop of the Potawatomi campground. At the time of writing, the Chippewa campground had been closed for 5+ years. While we were expecting a connection between the campgrounds as usually, Ilinois State Parks are only moderately private, we were surprised to find a few feet of pure forest between us and each campground around us. While the inside loop campsites were slightly less private, we barely noticed the dozens of campers around us with the privacy that the layout and foliage provided.
With each Potawatomi loop covered by the same kind of dense forest, unfortunately, there are no river-side campgrounds for reservation. The only major difference between the loops was the facilities provided. The Hawthorne loop contains the shower building and modern restrooms while all other loops only have vault toilets for use.
The campsite itself was even grounded and the soil was easy for stakes to enter. Each campsite comes with a classic picnic table and a raised firepit. While some IL state parks have an in-ground fire pit (Type A below), Kankakee River campsites use a more exposed, off-ground firepit that is easier to cook with but harder to make a safe ROARING fire.
Firepit Types
A: In-Ground
B: Raised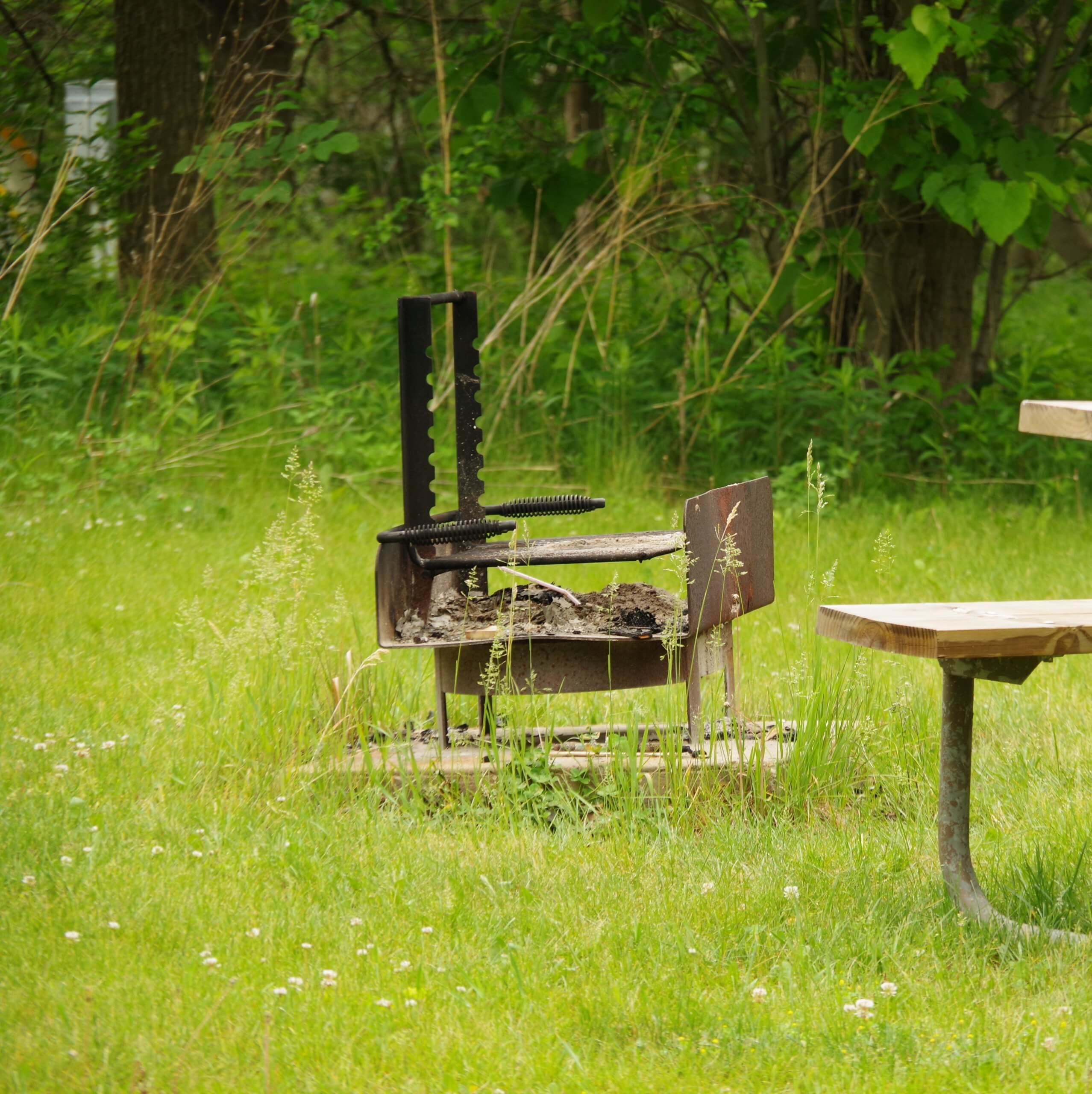 Facilities & Amenities
Bathrooms & Showerhouse
The bathrooms and shower house were cleaned regularly but there were still some key issues with the building and maintenance. While being far better than the vault toilets, the women's bathroom was out of toilet paper for half of our stay and the toilet paper dispensers did not allow the roll to move, meaning you need to loop the TP through to use any of it. Take a look at the photo to see how the rolls are stuck directly into a metal bar.
We didn't try out the showers this trip but will update our review if we are able to make it back in the near future.
Camp Store
The camp store was nowhere to be found! While there is a concession stand on the maps around the parks, we were unable to locate an open building so be aware that you'll need to head into town for any supplemental items and firewood. Local places for firewood include Casey's General Store and Jewel and will run about $7-$8 per bundle.
Environment
Kankakee River State Park might have some of the best stargazing we've found near Chicago. While a town of 20,000 people is less than ten minutes down the road, there are almost no lights within the park or near the campground, giving you stunning skies when the conditions are clear. Road noise was almost zero for this tucked away campground and we were lulled to sleep by the sound of the forest and softly woken each day by birds.
We spotted both deer and raccoons during our stay (with the raccoon eyes reflecting back at us as we headed to the bathroom during the night). Birdwatchers may be able to spot red-headed woodpeckers, herons, and other waterfowl with a keen eye to the skies.
The park itself is primarily forest but taking the river trail will push you into a highly maintained portion of the park that is primarily lawns for mixed-use recreation.
Activities
Kankakee River State Park activities revolve around the river and surrounding forest. There are ample hunting lands on the south side of the river that run nearby horse and snowmobiling trails open year-round. The north side of the river is perfect for picnics, hiking or cycling along the river, fishing, and includes an archery range and bowhunting areas.
We tried out the Kankakee River Trail, a 10.5 mile paved trail perfect for bikers that runs the park end to end on the northern side of the river.
Recommended Hikes
Kankakee State Park River Trail – Picked up from just outside most of the campground loops across the main road, the river trail is 10.5 total miles, giving you a solid 20 mile option if you enjoy spending most of the day on the trail!
Rock Creek and Chief Shaw Trails – A quick drive away, this 3.2 mile loop is accessible year-round and provides some minor elevation changes as you loop around Rock Creek
Service Quality
While we only interacted with the campground hosts at Kankakee River State Park, they informed us of multiple scheduled activities (movie night with popcorn our weekend) that shows that the hosts and staff are really working to provide a high-quality experience. The check-in process was simple since we had reserved and paid on ExploreMoreIL beforehand. They only required check-in with the on-duty hosts for the entire campground before we were able to set up camp!
We saw some staff making their rounds a few times during the day to keep an eye on things but we never had a reason to interact with them.
Verdict: Kankakee River State Park
Kankakee River SP is great for a weekend camping trip but is a little lackluster in sights to see given its central Illinois topography. The private campgrounds, great stargazing, and long easy river trail give us reasons to head back for an easy few nights outdoors close to the city!
FAQs
Is Kankakee River State Park Free?
Yes! Entry to Kankakee River SP is completely free. The only additional fees you may incur are for campsite reservations.
Is alcohol allowed at Kankakee River State Park?
No – An alcohol ban is in effect for all portions of Kankakee River State Park. The DNR has a ban on alcohol at many parks (however, in our experience if you aren't disruptive, the campground host won't disrupt you either)
Are dogs allowed at Kankakee River State Park?
Yes! As long as they are kept on leash, you can bring your furry friend to any part of the park!