Central Illinois has campgrounds for every type of camper! While camping in central Illinois usually surfaces visions of flat forests and fields, we've found hidden gems throughout the state to explore state parks, local forest preserves, and private campgrounds in central Illinois with unique waterfalls, lakes, and more!
State Park Camping in Central Illinois
Illinois has one of the best state park systems in the country, and one of the only ones that is still free for anyone to enter every day. While camping in central Illinois state parks might not be free, the DNR still operates some of the lowest cost and best-maintained campgrounds in the state.
Kickapoo State Recreation Area
One of the most popular state parks in Illinois, Kickapoo State Park offers access to over 2.8K acres of forest, lakes, and hills to explore. Home to 22 different lakes, there are lots of water activities that can be tough to find in the middle of the country like scuba diving, great fishing, and some larger-scale boating than many other central Illinois lakes.
For those who prefer dry land, there are 12 miles of mountain bike trails and many hiking or running trails to take advantage of every corner of the park. The winter seasons offer cross-country skiers, snow-shoeing, sledding, ice skating, and ice-fishing opportunities!
With a total of 184 campsites, everything from tents to trailers to groups can be accommodated. Over one hundred of the campgrounds have Class AA amenities so you don't have to skip the shower for a weekend!
Learn more about Kickapoo on the DNR website or go straight to ExploreMoreIL to plan your trip!

Moraine View
McLean County's Moraine View State Recreation Area is home to 1,600 acres of opportunity to enjoy the outdoors. Miles of horse and hiking trails surround Dawson Lake where you can take a dip on a hot day or try ice fishing during the winter. There is even a restaurant and boat rental right on the banks for a great day trip!
Less than half an hour from Bloomington, IL, Moraine View has both drive-up and backpacking sites for camping in central Illinois. One trail has 32 separate primitive campsites spread throughout the trail for those looking to try their hand at backpacking. There are also equestrian campgrounds and more traditional Class A trailer and tent camping sites.
Rock Island Trail State Park & Kickapoo Creek Recreation Area
If you're looking for a primitive central Illinois campground right outside of Peoria, look no further than the Rock Island Trail! You can pick this trail up in town and hike, bike, or ski to any one of the trail-access-only campsites that lie near Kickapoo.
Built on top of an abandoned railway, this passage spans 26 miles that will give you a taste of backpacking before you start something a bit longer.
These campsites are walk-in only but for more information, check out the IL DNR website.
Jubilee College State Park
If you're looking for miles and miles of trails to hike during your outdoor vacation, look no further than Jubilee College State Park! A 20-minute drive northwest of Peoria, IL, Jubillee College sports 45 miles of trails for hikers, bikers, equestrians, and cross-country skiers across its 3,200 acres.
This state park includes over 100 campgrounds with shower access (and some with Electricity as well). There are group campsites available and equestrian sites for reservation on ExploreMoreIL. For more information about Peoria camping at Jubilee College, check out the IL DNR website!
Sangchris Lake State Park
Just outside the state capitol, less than a thirty minute drive from Springfield lies Sangchris Lake State Park. A 3,000-acre haven of natural beauty, there are miles of trails surrounding the massive Sangchris Lake. The state park offers 120 miles of shoreline around Sangchris Lake from which anglers and boaters can take their leave of land and spend time on the water.
Two campgrounds within the park include classes of campgrounds for every budget from 135 Class A sites down to 15 Class C campgrounds and even two cabins. Reservations can be made online at ExploreMoreIL.
Beaver Dam State Park
Beaver Dam State Park is the perfect choice for camping in central Illinois near Carlinville! Despite its name, you probably won't see any beavers on your trip as they are now gone from the area, but this state park did get its name from the beaver dam that created the park's lake.
Visitors of the park can enjoy the range of outdoor activities the park has to offer. There are over 8 miles of trails to hike where you'll be able to walk around the lake, past the marsh, and through wooded forests. You'll love these trails and the incredible scenery you'll see along the way!
Are you an archer who needs somewhere to hone your skills? Take advantage of Beaver Dam State Park's free-of-charge archery range! All you have to do is bring your own bow and arrows! The park's 59-acre lake provides a terrific fishing experience and the opportunity to catch largemouth bass, bluegill, sunfish, and channel catfish. Hunting is permitted at this state park and offers spring turkey, archery deer, and squirrel/furbearer trapping.
You'll be hungry, thirsty, and fatigued after trying all the different activities at Beaver Dam State Park, but they have you covered! Visit the Plainview Winery Cafe, a full-service restaurant with indoor and outdoor seating along the lakefront. If you want to cook your own food to fill you up, visit the park's picnic area where you are provided tables and grills. Kids can have fun on the playground that's also located in the picnic area!
RV/trailer camping and tent camping are allowed at Beaver Dam State Park's campground. Large oak and hickory trees provide the campsites with shade. The 40 RV/trailer campsites have electricity at each pad and a sanitary dump station. Water is available, but individual campsites do not provide water. A shower building with flushable toilets can also be found in the central area of the RV/trailer section of the campground.
Tent camping is permitted in a separate section of the campground. The tent camping area provides access to restrooms and water. Another separate area of the campground caters to youth groups and comes with restrooms, water, firepits, and picnic tables. There is one cabin available to rent on the campground. Reservations for all campsites and the cabin can be made using the ExploreMoreIL website.
Private Camping in Central Illinois
Private campgrounds offer more amenities than the average state park campground in Illinois (and many allow you to bring alcohol, unlike the Illinois DNR). These campgrounds can be great for cabin camping in central Illinois or for alternatives when the state parks are full!
D & W Lake Camping and RV Park
If you're looking for a quiet lakeside RV park that's a short 12-minute drive from the heart of Champaign, IL, D & W Lake may be just the thing for you. Rated "A" by GuestRated.com for multiple years, this peaceful retreat offers boat rentals and fishing as well as a playground for any little ones. From sports games to theater productions, the nearby University of Illinois is rife with entertainment. If golfing is your thing, visit one of the six public golf courses in the area.
Full hookups, laundry, WiFi, and propane make this an uncomplicated spot to settle down for as long as you wish, and a nearby convenient store can fill any of your other needs. This outfit offers various RV sites and tent-only sites. This campground near Champaign and Urbana can scratch your itch for diverting days and peaceful nights if you make a reservation with D & W Lake Camping.
Springfield KOA Journeys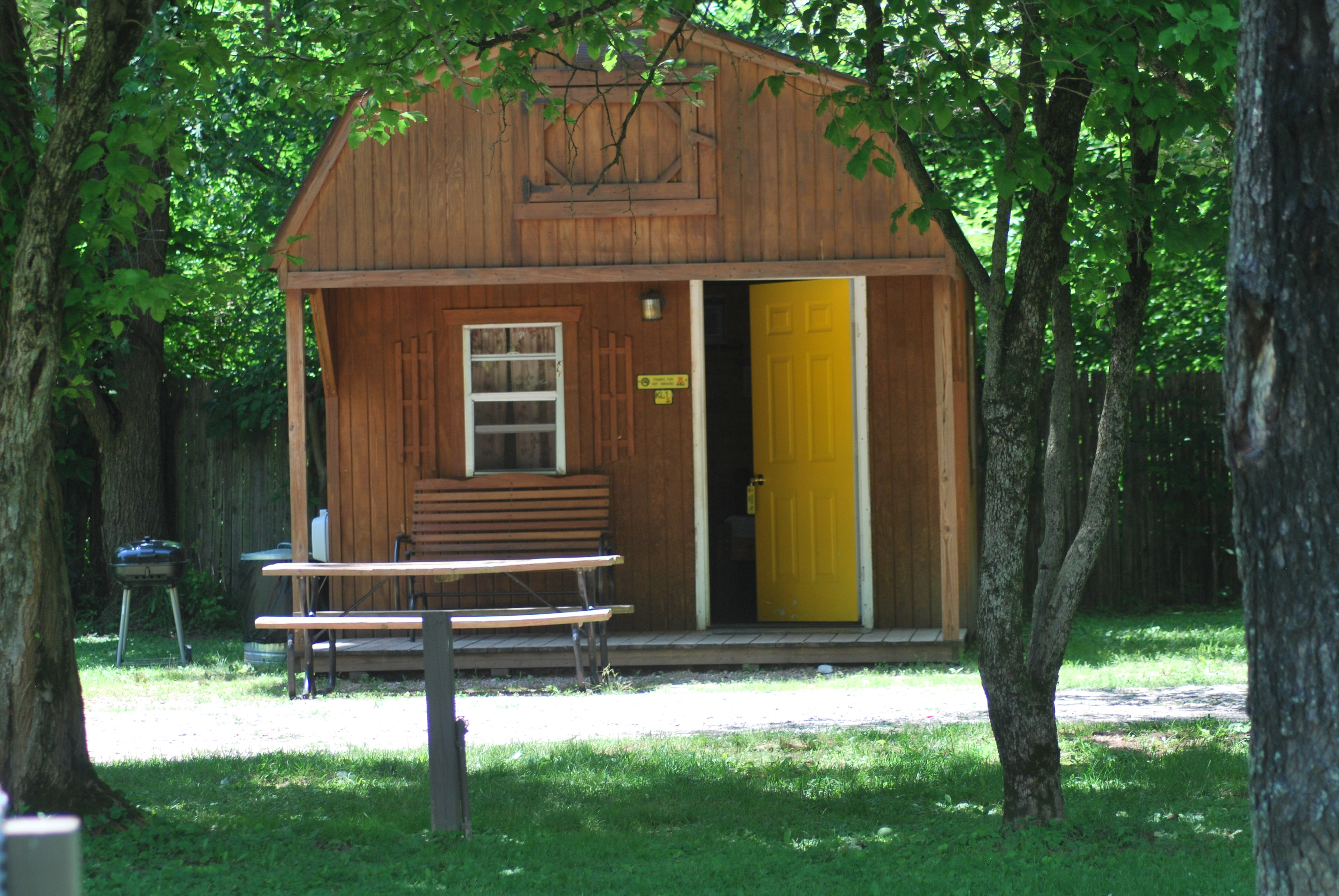 A short distance outside Springfield lies the Springfield KOA with all the amenities that KOAs are known for! Enjoy the pool, mini-golf, or rent a bike from the campgrounds to explore the area. Just a short distance away from Sanchris Lake, there are even more opportunities for hiking, boating, and fishing.
This location has long pull-through RV sites with 50-amp service and full hookup, cabins for rent, hookups with just electric, hookups with water and electric, and covered tent sites. For reservations, check out the KOA website.
Gillespie Lakes
Looking for some family-friendly outdoor fun? Visit Gillespie Lakes when you're camping in Central Illinois for fishing opportunities across their two lakes! Gillespie Lakes is comprised of two lakes, Old Gillespie Lake and New Gillespie Lake. If your dream day on the lake mostly consists of fishing, there are 14 species of fish available here!
The campground at Gillespie Lakes consists of 24 RV/trailer lots and 4 tent lots. The RV/trailer campsites come with electricity, and tent campsites come with and without electricity. The campsites are easy to access, flat, and highly shady. Campers have access to indoor showers and indoor bathrooms. You can contact Gillespie Lakes through the phone number and email listed on their website.
Cabin Fever Campground and Hunt Club
Cabin Fever Campground and Hunt Club is a private campground with five lakes and acres of camping and hunting land. The campgrounds are able to accommodate both tent and trailer campers and some include electricity and water are hookups.
True to its name, Cabin Fever provides cabins to rent as well! These single-room cabins can accommodate up to six people and comes with a small refrigerator, microwave, television, and a table with chairs. They also have air conditioning and electricity. Outside the cabin are a covered porch, charcoal grill, fire pit, and picnic table for guests to use. Guests are required to bring their own linens, towels, and cooking utensils.
You can inquire about a reservation for the campsites and cabins by calling the campground or filling out the contact form on their website.
Galesburg East KOA
Located just outside of Knoxville in Knox County, Galesburg East Campground is spread out across 28 acres of lush green foliage and gives campers an opportunity to escape from day-to-day life by immersing themselves in nature. This family-friendly campground offers a variety of amenities to keep everyone in your group entertained. Kids and adults alike can show off their skills at the campground's mini-golf course! If you lose your game of mini-golf, try competing in a round of horseshoes, beanbag toss, or croquet!
Take a dip in their heated pool, practice your fishing skills at the catch-and-release pond, or take a hike on the campground's private walking trails. Galesburg East Campground also frequently hosts exciting events such as bingo, an ice cream social, and movie nights!
Open from April 1st to October 31st, Galesburg East Campground is a seasonal campground with full hookups (water, drainage, and electricity) and large pull-through campsites to accommodate RVs. Picnic tables are provided, but you will need to ask for a fire ring if you would like one.
The campground offers complimentary WiFi and access to laundry machines, a clubhouse, and a propane filling station. Cabins are also available to rent, and all reservations for campsites and cabins can be made online on the campground's website.
Local Camping in Central Illinois
Local campgrounds are operated by county forest preserves or sometimes even cities. These campgrounds are more comparable to a state park but may include hidden fees for non-residents camping in central Illinois.
Middle Fork River Forest Preserve
Stretch your legs and your brain by visiting Middle Fork River Forest Preserve. This campground in Champaign County is about a 35-minute drive from Champaign itself, and it offers over seven miles of trails between 0.8 miles and 2.4 miles where hikers can see the restored prairie, wetlands, and river bottomland forest.
For nature nerds, there's much to learn about their waterfowl management areas, prairie restoration tactics (including prescribed burns!), and local wildflowers on self-guided tours or in the nearby museum and interpretive center. Take advantage of the volleyball court, picnic shelter, and playground for a day of outdoor fun. Stargazers will especially value camping at this preserve as it contains Illinois's first Dark Sky Park! If you want to swim, simply walk the short way from your campsite to the beach.
All 65 campsites in the Harry L. Swartz Campground have a grill, and all have electricity except for Indian Ridge campsites. Group sites and double sites are also available for reservation for the best opportunity for camping near Champaign. See the next available date here!
Comlara Park
Just 15 minutes out of Bloomington, IL can be found an extensive natural wonderland. Ten miles of trails ranging from easy to difficult accommodate hikers, bikers, and horseback riders as they traverse the shores and forests surrounding 925-acre Evergreen Lake. You can also spend your time relaxing during a nice boating, sailboarding, or fishing trip.
Camping in central Illinois is a breeze if you decide to stay at Comlara Park. There are 94 electric sites, 23 easily accessible non-electric sites, 27 primitive/walk-in sites, and two group tent camping areas. Reservations can be made in person or on the phone starting on the first Saturday in April. Visit their website for the most up-to-date information.
Forest Glen Preserve
Forest Glen Preserve, located 13 miles south of Danville, IL, is a great spot for the rugged outdoorsperson. Sporting an 11-mile trail and 15 more miles on top of that, the Forest Glen preserve is a great place for mushroom hunting, backpacking, or birdwatching! Several picnic areas can be found throughout the 1,800-acre park, and viewing the wildlife is common. For those unafraid of heights, climb the 72-foot observation tower to see the spread of the Vermilion River. Fishing in the river, as well as the four ponds in the preserve, is also possible.
To spend the night in this central Illinois forest preserve campground, you may take advantage of the 42 camping sites at the campgrounds that can provide 50-amp electricity, water, a shower building, and a dump station. Sixteen tent camping sites are available as walk-in-only; water is available, and the shower building at the modern campgrounds can be used. There are six primitive sites (no water, only pit toilets) that require pre-registration. For those backpacking the Ridge Back Trail, one of the three sites must be reserved in advance.
If you don't have a tent, they even offer teepee camping for a very unique experience! There's plenty here to help you enjoy your stay! Give them a call at 217-662-2142 or check out their website for more information!
Closing
Still looking for more options for camping in Illinois? Check out our full Illinois state guide for campgrounds in every county!
Haven't Found Your Perfect Campsite?
More state parks, private campgrounds, and primitive campsites are waiting! Check out 14 more of our favorite campgrounds north of I-80.