Take it straight from an Illinois native – While we may be known for cornfields, there are still some found the best options for camping near Chicago – within a two-hour drive of the city! Skip the research and snag a reservation at one of these campgrounds within two hours of Chicago!
State Park Campgrounds Near Chicago
Adeline Jay Geo-Karis Illinois Beach State Park | Closest State Park to Chicago
As the only one of Illinois State Parks along Lake Michigan, Illinois Beach State Park offers great views of the lake less than an hour away from the city! This state park is full of natural preserves and marshland beyond the sand dunes that border the 6.5 mile shoreline.
With over 240 Class A sites and a lakeside sunset a short walk away, Illinois Beach State Park is a great place for quick trips away! Bike campers in Chicago can use the state park as a jumping-off point onto the Zion Bike Trail, while non-bikers enjoy five miles of nature trails found inside the park.
Rock Cut State Park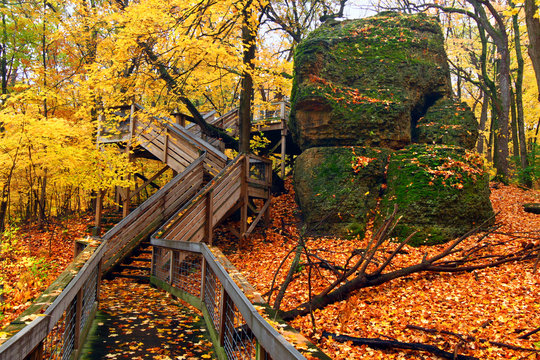 The largest state park in Northern Illinois, Rock Cut State Park has unique options not available at many other Illinois State Parks near Chicago like a swimming beach, almost two dozen miles of mountain biking trails, and an off-leash area for dogs and their owners to explore with freedom.
Adding to the park's activities are forty miles of hiking trails crisscrossing the park through forest, along the lake, and through the many acres of prairie in the park. Spot over a hundred different types of wildflowers through different trails and times of year!
The fun doesn't end in winter either – Rock Cut maintains groomed cross country skiing trails and you can rent snowshoes to make your way through fresh powder and experience the silent winter woods.
There's so much here that you might want to consider spending a weekend at any one of their 250+ campsites. Launch your kayak right from the tent if you plan ahead to grab one of the lakeside spots! If the waterside sites are full, there are plenty of other private locations throughout this Winnebago County State Park (far more spacious and tucked away than most other IL State Parks).
 Kankakee River State Park
With 4,000 acres of protected forest and 11 miles of river shoreline, Kankakee River state park is great for any outdoor explorer.
A simple 60-minute drive from Chicago, this park has over 25 miles of hiking and equestrian trails (open for snowmobiling in the winter) and a great way to paddle on cleaner water than the Chicago River can offer. Fishers can try their luck at the catfish, walleye, Northern pike, and smallmouth bass that live in the Kankakee River or use local retailers for a relaxing float trip down the river.!
Want to really get to know the park? Take advantage of the closest Illinois state park camping near Chicago with over 200 sites varying from Class A to Class C for tent campers and RVers alike! A cheap weekend away, camping outside Kankakee is a serene way to get away from the city noise for a few days.
Chain O' Lakes State Park
Chain O' Lakes State Park is a Lake County State Park for Chicagoans looking to enjoy some water activities in a calmer and smaller lake than Lake Michigan! The park borders Northern Illinois' largest natural chain of lakes and the Fox River, giving you ample opportunities to boat, fish, and more!
Hosting over 200 campsites for RVs and tent camping near Chicago, there is plenty to do for a long weekend trip. The marshy shoreline isn't great for fishing straight from the side of the lakes but boats may be rented to get onto the water for some walleye, crappie, catfish, three separate species of bass, and more.
Despite the large area of the park, there are only a few trail systems available for use – less than 3 miles for hikers with another six miles of biker/hiker trails – but there are plenty of other parks nearby if you run through those too quickly.
Shabbona Lake State Park
Shabbona Lake is one of Illinois' largest state parks with over 1,500 acres of prairie and an additional 315 acres of man-made lake that was named one of Illinois' Best Fishing Lakes by the state legislature in 2011. The park contains eight miles of hiking trails and some of the few lakeside campgrounds in the state if you're looking to launch a canoe right from your campground. This park is great for last-minute trips from Chicago as they hold 60 campsites in reserve for campers without reservations.
Starved Rock State Park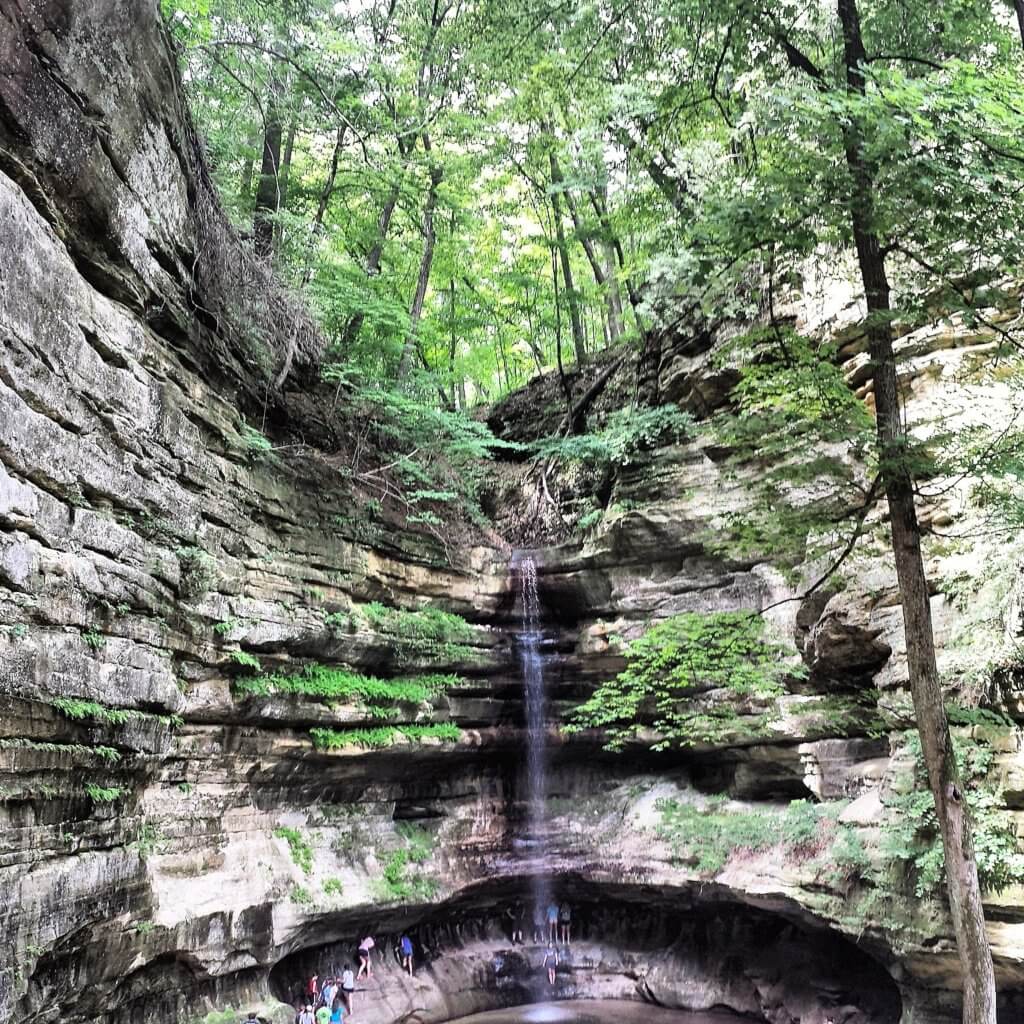 If you've heard of any parks on this list, you've almost certainly heard of Starved Rock.
Likely the most popular Illinois state park, Starved Rock has 13 miles of well-maintained hiking trails and more elevation changes than you'll find at almost any other campground near Chicago. Take the different trails down into the water-carved canyons to find waterfalls and distinctive natural beauty. Many trails have constructed stairs and walkways for beginner hikers or hikers with difficulties in elevation so check in at the visitors center for recommendations if you meet this description!
If you'd rather take to the water during your trip – launch your boat right into the Illinois River or take advantage of kayak rentals to see a new perspective of Starved Rock or catch any number of fish species that call the river home.
The park is home to 129 campsites but they have a tendency to fill up very quickly due to the park's popularity. Be sure to make a reservation early in the season!
Illini State Park
Less than an hour and a half away from Chicago, Illini State Park is a campground and day-use area perfect for groups looking to spend some time outside.
While there are only a few miles of trails available, the park has shelters and tables scattered through the area as well as a little over one hundred campgrounds if you'd rather spend the weekend! This state park can be a great starting point for campers that were hoping to spend their time in Starved Rock or Mattheisen but were too late to reserve or prefer a smaller campground than the one at Starved Rock.
Lowden State Park
A little under two hours outside of Chicago, Lowden State Park sits along the Rock River offering a nice place to unwind and walk four miles of mild trails. The riverside trail features stunning river bluffs and a 50-foot tall statue dedicated to local Native American tribes that used to call this area home.
Lowden has a higher range of camping experiences than many campgrounds near Chicago, with a wide range of options offering electricity all the way to primitive campsites deeper in the forest. The shower house available offers a better restroom for campers than the outhouses at White Pines so consider Lowden as your Illinois State Park of choice for your next weekend away
White Pines Forest
Just about two hours from the city, White Pines State Park is a tent campers paradise with 385-acres available for family camping near Chicago, hiking, and fishing! The most distinct feature of White Pines is the concrete fjords built to allow driving through flowing water to access different parts of the park (you'll cross a few on the way to the campground).
With about 5.5 miles of trails, the park is well suited for families looking for a nearby weekend excursion or camping trip near Chicago! White Pines has over 100 campsites primarily for tent camping or other campers who do not require electricity so RVers might want to seek elsewhere.
Private Campgrounds Near Chicago
Northwest KOA
Northwest KOA offers some of the best winter camping near Chicago! Like other KOAs, Northwest serves RVs and car campers alike, with added amenities like frisbee golf, mini-golf, a pool, and cabins available to reserve.
For an extra private experience, check out the romantic Pioneer tent. Tucked away in the corner of the campground, this solar-powered canopy tent has a nice wooden porch to give you the perfect place for a morning cup of coffee or midnight stargazing.
Northwest KOA Pioneer Tent (Yelp)
Lasalle / Peru KOA
KOA offers a few different types of experiences at this private campground. Enjoy one of the four golf courses within a fifteen-minute drive, kick back at the KOA pool, or check out one of the nearby state parks mentioned earlier!
Looking for a bit more privacy? Check out the 'Honeymoon corner' with three tent sites. You may have to carry some of your gear to get to the campsites, but you'll enjoy much more seclusion than the rest of the campground and many other places on this list.
Check out the next time they're available here!
Local Camping in Chicago: Cook & Suburban County Forest Preserves
Camp Reinberg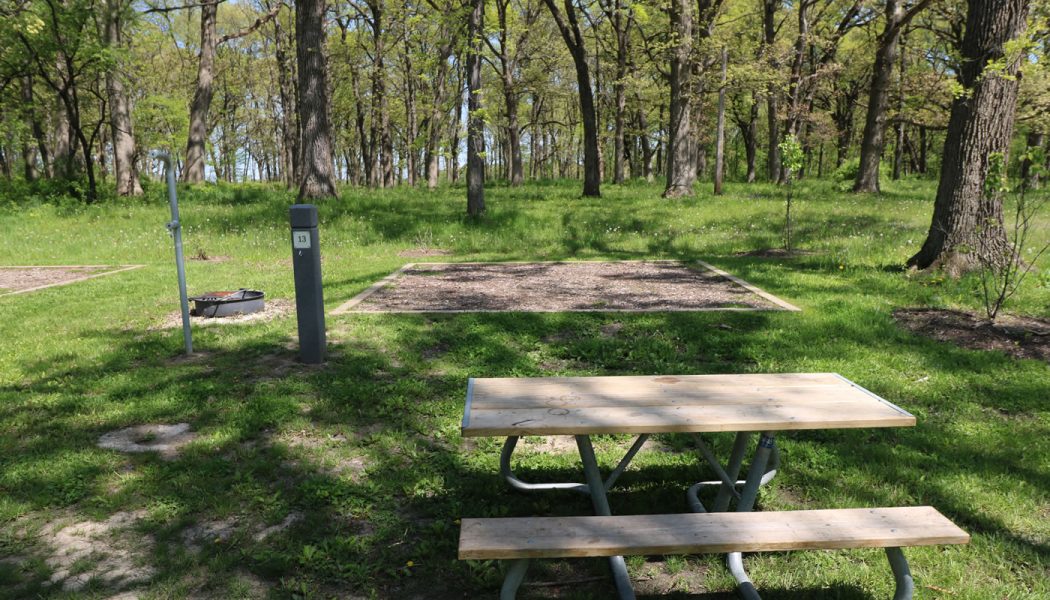 Boasting 9.7 miles of unpaved trails and an additional 4 miles of paved trails, Camp Reinberg has enough mileage to keep you walking all weekend straight out of your campsite. Located in Palatine, this is a hidden campground and cabins right in the middle of the suburbs.
Camp Reinberg has space for groups of all sizes camping in cook county, from car campers permitted all year, up to full campground rentals for up to 200 of your closest friends. This campground can support RVs and has a nature play space for families to keep the kids occupied outdoors.
Whether you choose cabin camping near Chicago or stick to the tents, don't forget to take advantage of the 4 miles of paved trails and another 9.7 miles of unpaved hiking and cross-country ski trails just outside your campsite. Take a look at the next available date here!
Camp Bullfrog Lake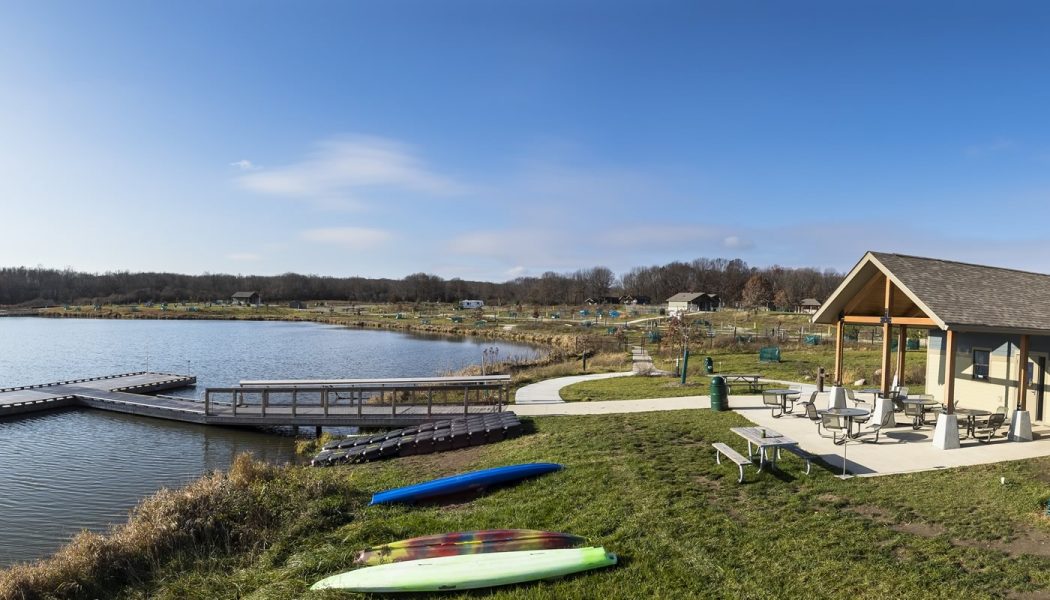 Another option from the Cook County Forest Preserves, Camp Bullfrog Lake has almost a dozen campgrounds and over thirty tent campsites available for camping near Chicago. The namesake lake offers kayak rentals and fishing opportunities while the nearby trails are great for hiking, mountain biking, and bird watching!
For families at Camp Bullfrog Lake, the nearby Little Red Schoolhouse Center has live animals and paved self-guided trails. Once finished at the schoolhouse, the Swagawau Environmental Learning Center offers guided tours through unique preserves for a one-of-a-kind experience.
Camp Sullivan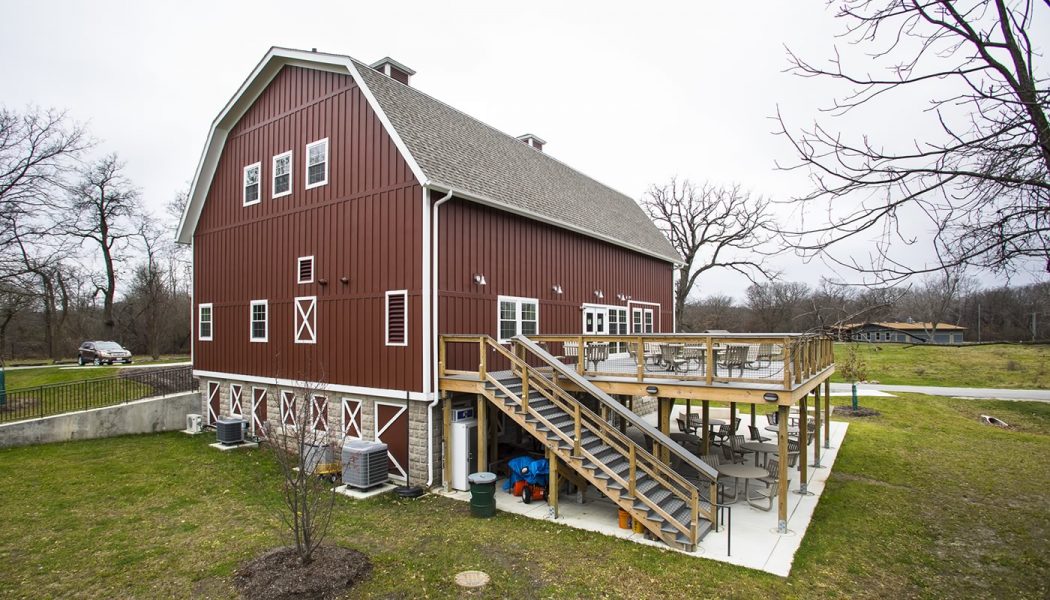 The last entry from the Cook County Forst Preserves, Camp Sullivan offers camping near Chicago for any camper (including electric hookups). There are even better tent campsites that lie slightly deeper within the woods. You'll need to carry your gear from your car but the privacy is worth the walk.
Camp Sullivan's Red Barn holds a thirty-foot climbing wall that you won't find at any other campground on this list. The campsites are minutes away from the Tinley Creek trail system for gentle looping hikes.
Blackwell Forest Preserve | Camping near Chicago's Western Suburbs
Out in the western suburbs, this 1,366-acre forest preserve has something for everyone. Walk, jog, bike, or even ride your horse along their many trails!
Blackwell Forest Preserve can accommodate tents, trailers, and RVs. Each site offers electricity, gravel parking pad, fire ring, and a picnic table. It's important to note none of the sites offer sewage or water hookups. To learn more information or make a reservation, give them a ring at 630-933-7248 or visit the forest preserve website!
Out of State Campgrounds
Crossing state lines will bring new life to camping near Chicago as you have the opportunity to explore new topographies without increasing travel time too much!
Indiana Dunes National Park | Indiana
The closest national park to Chicago, Indiana Dunes is also one of the most recent national parks to be established in the United States. Just over an hour from the city, the main feature of this park is the namesake sand dunes that can be found near the lakefront. These 200-foot peaks of sand were formed by the glaciers over 14,000 years ago and remain one of the most unique geological features of the midwest.
Camping space is fairly limited within the park – Only 66 total campsites are available through the NPS but there are other private campgrounds nearby to check out if the official National Park campground is full.
Warren Dunes State Park | Michigan
Another 30 minutes north of the Indiana Dunes you'll find the Michigan Warren Dunes! The Warren Dunes have slightly sandier dunes but also less to explore than the Indiana dunes. On the bright side, there are less fees compared to visiting the National Park.
With over 200 campsites, there is significantly more space than at the Indiana Dunes. Consider camping in Michigan and taking day trips back to Indiana if you really want to visit the national park!
Kettle Moraine State Park (Southern Unit) | Wisconsin
The Kettle Moraine State Forest southern system covers over 22,000 acres of forested hills and lakes across southern Wisconsin. There are three campgrounds about two hours away from Chicago that offer over 240 campsites from full electric hookup to primitive only.
The Kettle Moraine area has countless hiking trails including the ice age trail and the John Muir Hiking-Biking trail for days of fun!
Conclusion
Ready to go a few more hours to find great camping near Chicago? Check out our other campground recommendations! Southern Illinois might not always come to mind but it is the home of Illinois' only National Forest and different topography than the flat cornfields you might be used to.