Northern Illinois has dozens of campgrounds perfect for adventure seekers and families – if you know where to look. We've pulled our favorite state parks, local forest preserves, and private campgrounds in northern Illinois so you don't need to spend hours going from Google Maps to websites and back again. Find your perfect spot for camping in Northern Illinois for fishing, hiking, boating, and more!
Camping in Northern Illinois State Parks
Illinois has one of the best state park systems in the country, and one of the only ones that is still free for anyone to enter every day. While camping in northern Illinois state parks might not be free, the Department of Natural Resources operates some of the best campgrounds in the state. We've compiled our favorites from the northern region here.
14. Chain o' Lakes State Park
Chain o' Lakes State Park is part of Illinois' largest hub of natural lakes, offering a range of water-focused activities to any camper. From boat and canoe renting to fishing bluegill, largemouth bass, walleye, and catfish, you can spend the day on the water catching dinner for the campsite!
Looking to try something new? Check out their archery range or horse rental! Chain o' Lakes also offers four trail systems where campers can walk, bike, or even ride a horse to experience the serenity of being surrounded by nature.
Chain o' Lakes State Park has 151 Class A Premium sites, 87 Class B Premium sites, and a youth group camping area that can accommodate up to 150 youth campers. Check out the DNR for more information or to make a reservation at this picturesque state park!
13. Adeline Jay Geo-Karis Illinois Beach State Park
Adeline Jay Geo-Karis Illinois Beach State Park is one of the few campgrounds located right along Lake Michigan. In addition to the massive lake nearby, there are also smaller lakes for fishing and hiking around! Adeline Jay Geo-Karis Illinois Beach State Park is perfect for RV and tent campers. It boasts 241 Class A Premium sites with electricity and access to showers and sanitary facilities. It also provides six handicap-accessible campsites.
This campsite is extremely popular during the summer months, so a reservation is recommended!
12. Shabbona Lake State Park
About an hour's drive from Chicago lies the Muskie Capital of Illinois. Shabbona Lake State Recreation Area is a large lake nestled in 1,550 acres of prairie. Meadows, woods, and a natural fen transition into one another offering a beautiful look into the landscape ecology of Midwest prairies. Eight miles of trails wander the landscape for hikers and winter cross-country skiers.
Besides fishing, water activities on the lake include boating and winter skating. A camp store offers groceries, firewood, and other supplies for the 150 campsites within the SRA. Two cabins along the shore are available year-round and there are also group campsites that can hold up to 50 people each for scouts camping in northern illinois.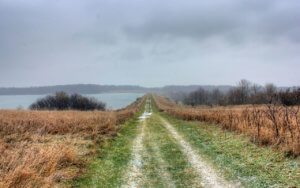 Click Here to check out our Shabbona Lake State Park Review for even more detailed information about the Shabbona Lake experience & ideas on what to do nearby!
Find the next available date at Shabbona lake here!
11. Illini State Park
Illini State Parks offers dozens of campsites across six loops for RV, family, and youth group camping. If you plan far enough in advance, you may be able to snag one of the sites just along the river. Take advantage of the Illinois River to catch Bass, Bluegill, Catfish, Carp, Bullhead, and more.
During the winter months, they set up an ice-skating pool and there are great hills for sledding. Illini State Park offers a great place for families willing to brave the chill. Visit their website for more information!
10. Starved Rock State Park
By far the most popular state park for camping in Northern Illinois (and the entire state), Starved Rock State Park has over 130 campsites and another six group campsites available for reservation. Campsites have access to showers and there are electric hookups at each site to make your stay a little more comfortable.
Explore over 13 miles of trails, stumbling on waterfalls, meandering into canyons, and enjoying lush forest all in a couple of hours. The park offers suggested portions for all types of hikers from the one-mile beginner to the ten-mile overhang – canyons trail combo. If you sign up early enough, you can get into a guided hike to learn more about the park from the Nature Resource Coordinator.
Need more information? Check out our Starved Rock FAQs or explore their website here. Ready to go? Make a reservation today!
Primitive Camping in Northern Illinois
Primitive camping is great for privacy and for anyone looking to get into backpacking. While there might not be a ton of hills in Illinois, there are still natural formations that can only be accessed via walking trails. Find truly unique campgrounds and get off the beaten path by finding some primitive camping in northern Illinois.
9. Buffalo Rock State Park
Tucked away between Buffalo Rock and Utica lie three primitive campsites open for first come first serve camping. The sites contain a fire ring but that's about all in terms of amenities! Just be sure to bring your own water!
Buffalo Rock State Park itself is known for the five 'living sculptures' of critters found in Illinois' rivers. Built out of soil, these sculptures are large enough to walk on! Be sure to also carve some time out to swing by the grazing area for the two bison that still call Buffalo Rock home.
Check out the Illinois Department of Natural Resources for more information!
8. Silver Springs State Fish & Wildlife Area
A mere twenty minutes from Oswego, IL sits Silver Springs State Fish and Wildlife Area, an excellent place to camp and enjoy the outdoors. At 1,350 acres, this park—often favored by hunters—also includes a four-mile hiking trail through the woods following the Fox River, a one-mile trail through a prairie restoration area, and a seven-mile equestrian trail.
There is a primitive group campsite here in this Kendall County park that will require you to hike in your gear. This site is quiet and offers some peace from the traffic and hubbub of other visitors. You can't reserve this campsite so the earlier the better if you're trying to camp in Silver Springs!
Visit the DNR website for more information!
Private Camping in Northern Illinois
Private campgrounds offer more amenities than the average state park campground in Illinois (and many allow you to bring alcohol, unlike the Illinois DNR). These campgrounds can be great for cabin camping or for alternatives when the state parks are full!
7. Northwest KOA
Northwest KOA offers some of the best winter camping in northern Illinois! Like other KOAs, Northwest serves RVs and car campers alike, with added amenities like frisbee golf, mini-golf, a pool, and cabins available to reserve.
For an extra private experience, check out the romantic Pioneer tent. Tucked away in the corner of the campground, this solar-powered canopy tent has a nice wooden porch to give you the perfect place for a morning cup of coffee or midnight stargazing.
See if Northwest KOA is available, today!
6. Pleasant Creek
Pleasant Creek is a private campground located in Oglesby, Illinois, and has only been operating for a little under five years. While more focused on seasonal RV's, they do have a number of primitive campsites, car campsites, and cabin campsites.  The campsite offers wi-fi and alcohol on the grounds, depending on the kind of weekend you're trying to have! Located less than a ten-minute drive away from Starved Rock, this campground can provide a private alternative to the state park campgrounds with all of the same great access to the trails and waterfalls.
For more information, take a look at their website.
5. Lasalle / Peru KOA
KOA offers a few different types of experiences at this private campground. Enjoy one of the four golf courses within a fifteen-minute drive, kick back at the KOA pool, or check out one of the nearby state parks mentioned earlier!
Looking for a bit more privacy? Check out the 'Honeymoon corner' with three tent sites. You may have to carry some of your gear to get to the campsites, but you'll enjoy much more seclusion than the rest of the campground and many other places on this list.
Check out the next time they're available here!
Local Camping in Northern Illinois
Local campgrounds are operated by county forest preserves or sometimes even cities. These campgrounds are more comparable to a state park but may include hidden fees for non-residents.
4. Camp Reinberg
Boasting 9.7 miles of unpaved trails and an additional 4 miles of paved trails, Camp Reinberg has enough mileage to keep you walking all weekend straight out of your campsite. Located in Palatine, this is a hidden campground and cabins right in the middle of the suburbs.
Camp Reinberg has space for groups of all sizes camping in cook county, from car campers permitted all year, up to full campground rentals for up to 200 of your closest friends. This campground can support RVs and has a nature play space for families to keep the kids occupied outdoors.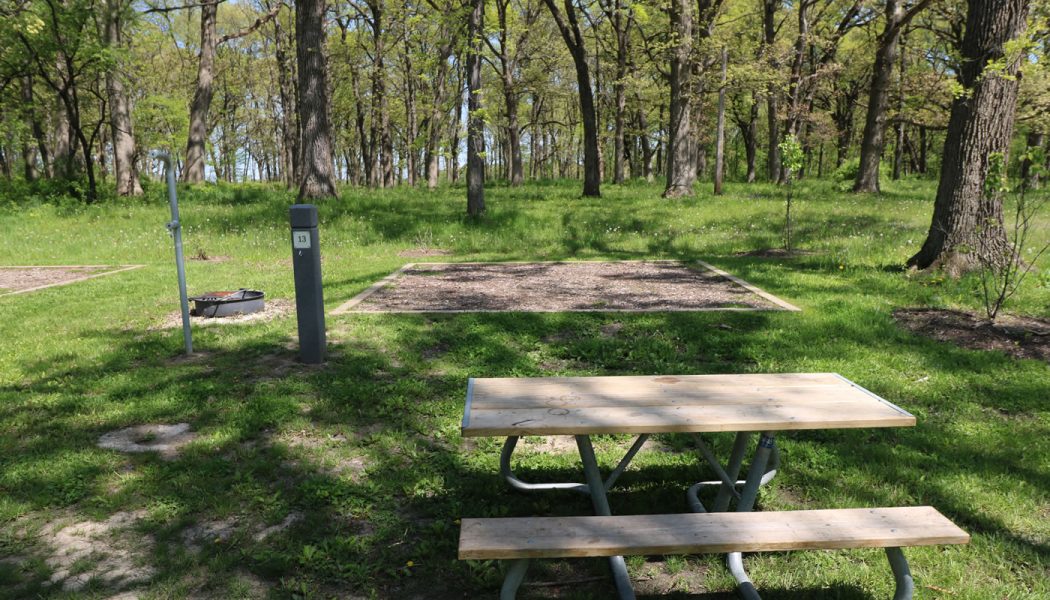 Whether you choose a cabin or stick to the tents, don't forget to take advantage of the 4 miles of paved trails and another 9.7 miles of unpaved hiking and cross-country ski trails just outside your campsite. Take a look at the next available date here!
3. Camp Bullfrog Lake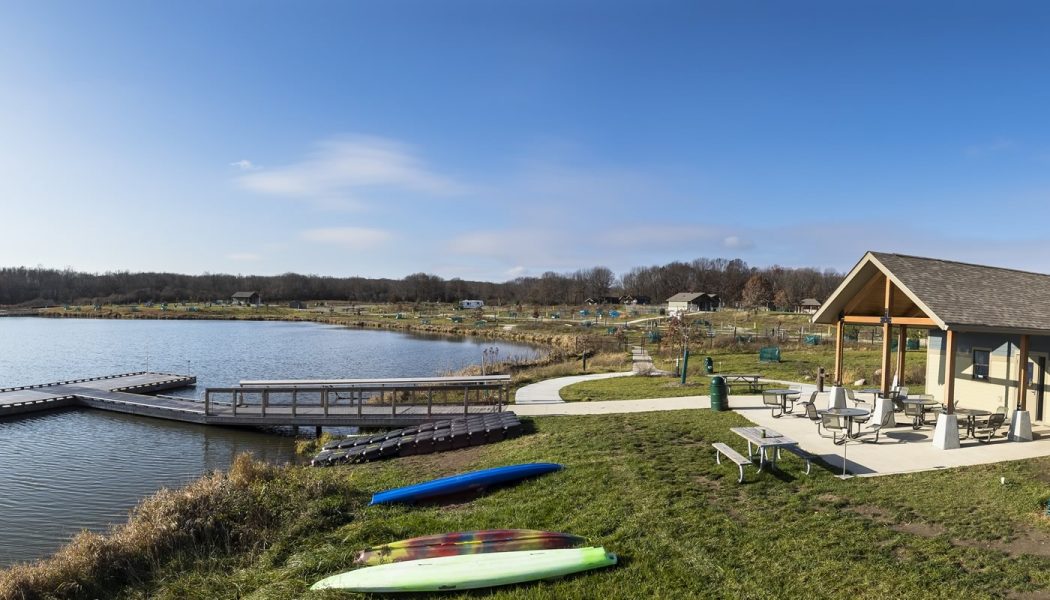 Another option from the Cook County Forest Preserves, Camp Bullfrog Lake has almost a dozen campgrounds and over thirty tent campsites available for camping in northern Illinois. The namesake lake offers kayak rentals and fishing opportunities while the nearby trails are great for hiking, mountain biking, and bird watching!
For families at Camp Bullfrog Lake, the nearby Little Red Schoolhouse Center has live animals and paved self-guided trails. Once finished at the schoolhouse, the Swagawau Environmental Learning Center offers guided tours through unique preserves for a one-of-a-kind experience.
2. Camp Sullivan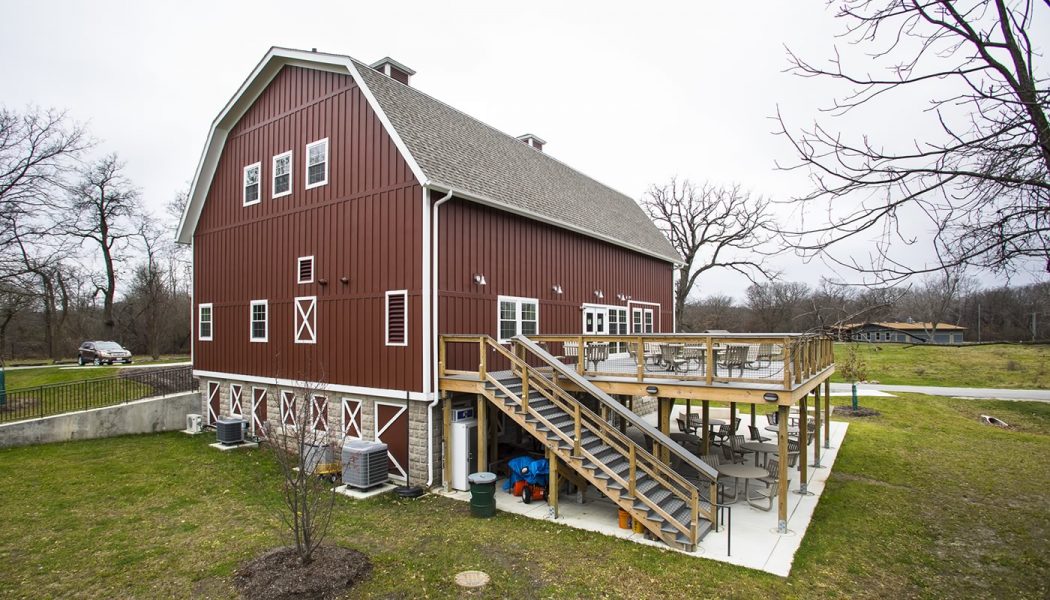 The last entry from the Cook County Forst Preserves, Camp Sullivan offers camping in Northern Illinois for any type of camper (including electric hookups). There are even better tent campsites that lie slightly deeper within the woods. You'll need to carry your gear from your car but the privacy is worth the walk.
Camp Sullivan's featured Red Barn activity house offers an almost thirty-foot climbing wall that you won't find at any other campground on this list. If you're looking for something closer to the ground, the campsites are minutes away from the Tinley Creek trail system for gentle looping hikes.
1. Blackwell Forest Preserve
Another entry found right in the middle of the suburbs, this 1,366-acre forest preserve has something for everyone. Walk, jog, bike, or even ride your horse along their many trails! Catch bluegill, largemouth bass, northern pike, rainbow trout, and walleye at one of Blackwell's fishing spots! Explore the beautiful waters of Silver Lake on a canoe, kayak, rowboat, or paddleboard.
Both experienced and first-time archers are sure to enjoy Blackwell's beginner, advanced, and interactive archery ranges. If you're feeling adventurous, test your skills with the moderately challenging self-guided compass course.
Blackwell Forest Preserve can accommodate tents, trailers, and RVs. Each site offers electricity, gravel parking pad, fire ring, and a picnic table. It's important to note none of the sites offer sewage or water hookups. To learn more information or make a reservation, give them a ring at 630-933-7248 or visit the forest preserve website!
Closing
Still looking for more options? Check out our full Illinois state guide for campgrounds in every county!