Looking to backpack the prairie or just a little extra privacy? You can find primitive camping in Illinois a quarter-mile away from parking all the way up to 15+ miles away! The forests and parks across the state offer unique boondocking opportunities. We've pulled the best for you to narrow your search for your next adventure!
Types of Primitive Camping in Illinois
There are two main types of primitive camping across the state – primitive campsites and dispersed camping areas.
Primitive Campgrounds: Found primarily in State Parks, primitive campgrounds are established campsites that require you to walk your equipment in and do not have drive-up access. Primitive campgrounds usually with a firepit and may have pit toilet access but don't have all the traditional amenities or access to facilities like other campground classes.
Dispersed Camping: This is the most backcountry you can get! Dispersed camping areas allow camping anywhere within a certain region. Typically there are restrictions related to how closely you may camp near roads or water sources but otherwise, you are on your own finding the perfect place to camp! Keep in mind, since you're making your own campground – there won't be a fire pit, table, or any other amenities found at primitive campgrounds.
Primitive Camping in Northern Illinois
Lowden State Park | Primitive Camping for Beginners and Families
Best known for the towering Chief Black Hawk statue overlooking the Rock River, Lowden State Park has a group of first-come, first-serve primitive campgrounds between 0.1 and 0.5 miles from the parking lot. We've taken advantage of these before and enjoy the privacy that primitive campgrounds offer while still being fairly close to the car as needed.
With a good camping wagon, Lowden can be a great intro to primitive camping for families or first-timers!
Sugar River | Riverside Primitive Camping in Illinois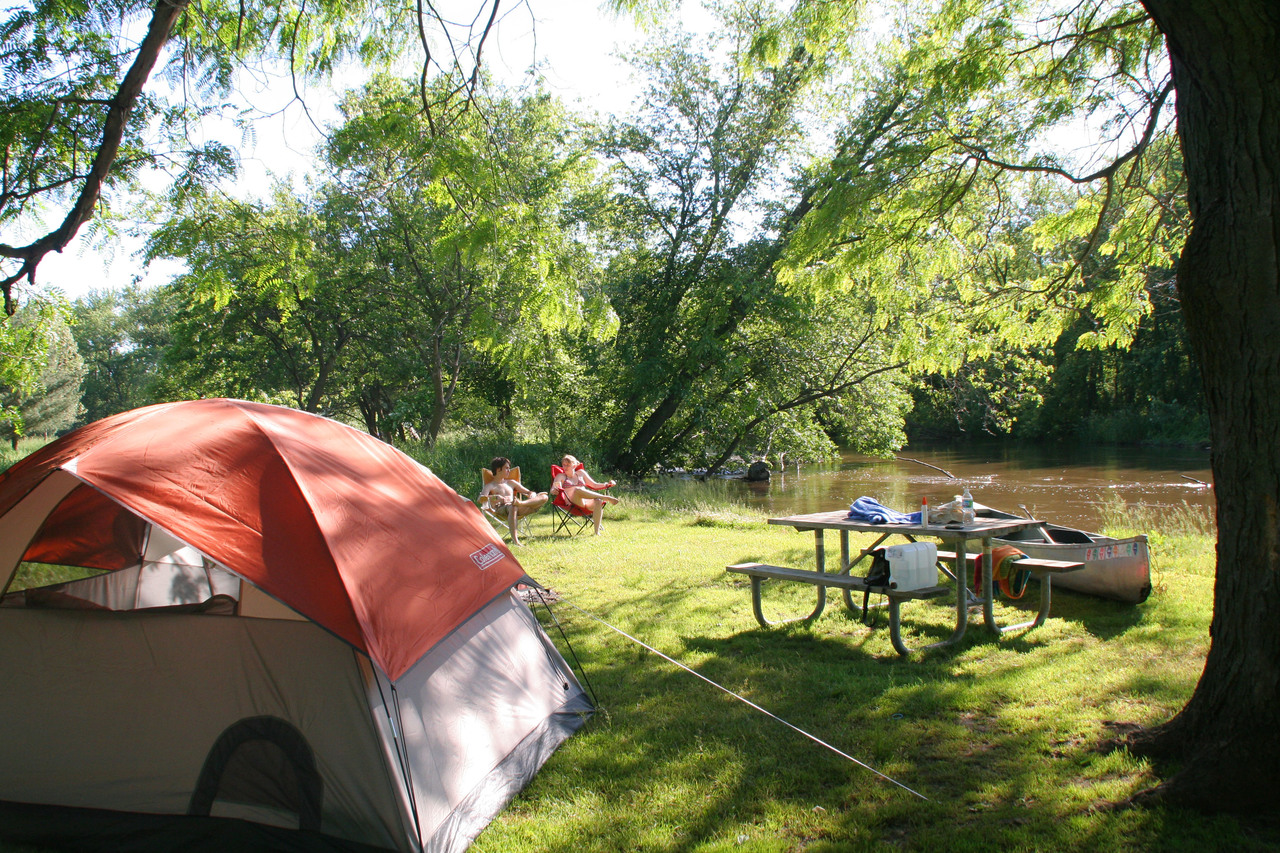 Nestled in Winnebago County, Sugar River Forest Preserve is a 500+ acre county forest with traditional campgrounds and a primitive campground right along the namesake river. Fall asleep to the sound of rushing waters after hauling your gear a short distance from the parking lot. These primitive campgrounds still come with picnic tables and a fire pit but you'll have to drive back to the main campgrounds if you want to access the showers!
Castle Rock State Park | Canoe Camping in Illinois
Castle Rock State Park is unique in that the campground can only be accessed by canoe or boat! Launch and paddle a short way to your campsite and enjoy a night (or weekend) enjoying the Rock River! Chances are you'll have the place mostly to yourself given the remote nature of the campground.
Primitive & Dispersed Camping in Central Illinois
Sand Ridge State Forest | Backpacking Campsites
If you're looking for a longer backpacking trip or have longed to experience true wilderness in Illinois, Sand Ridge State Forest offers a dozen primitive campgrounds along over one fifteen-mile trail. You can go as deep as you'd like to and get away from the noise of the roads and highways that some traditional campgrounds still experience. Split off from the backpacking trail to access another 40+ miles of marked trails and see pear cactus, badgers, and wide undeveloped pine forests.
Rock Island Trail | Primitive Camping
Park at a Rock Island Trailhead and hike about two miles to reach this primitive camping area far from the hustle and bustle of Peoria. Perfectly suited for bikepacking, the rock island primitive campgrounds can be found in the Kickapoo Creek Recreation Area. You won't find much else in terms of trails or amenities beyond the traditional picnic table and fire ring so consider this for a relaxing night away from the noise of humanity or as a great stop in a longer bike or backpacking trip through central Illinois.
Southern Illinois Primitive & Dispersed Camping
Shawnee National Forest | Dispersed Camping
The closest thing you'll get to a national park in Illinois, the Shawnee National Forest is a 280 THOUSAND acre forest between the Ohio and Mississippi Rivers. There are formal campsites but you can also set up camp anywhere in the forest outside of the developed areas, specific nature preserves, along water sources (streams or lakeshore), or on trails. Be sure to bring a compass to make sure you can get back out of the dense forest!
Take a look at the Forest Service website for the full list of other restrictions.
Primitive Camping in Western Illinois
Siloam Springs State Park | Beginner Backpacking in Western IL
About two miles out from the Red Oak trailhead, Siloam Springs offers a backpacking area for primitive campers to hike out and stay the night along McKee Creek. Four primitive campsites are available along this four-mile loop trail taking you deeper into the woods than any other traditional campground. Hop onto the crabapple trail in the morning to go explore the lake or visit the concessions area for a treat!
Conclusion
While Illinois is more known for traditional campgrounds, there are great backpacking opportunities across the state if you know where to look!
Check out more campgrounds in Illinois using our campground guides to find great campsites near Chicago and other cities! Tweet at us if you know of another good spot we haven't included here!
Want to know more about Illinois State Parks? Check out our other articles!