Looking for an Illinois State Park within one or two hours of Chicago? These Illinois State Parks close to Chicago offer fishing, boating, camping, hiking, and everything else under the sun for a great weekend or weeknight outdoors! You have PLENTY to choose from, even if the Friday Kennedy traffic looks terrible.
Looking specifically for campgrounds? Our Illinois Campground Guides can help you find the best spot to pitch your tent or find a State Park cabin!
Illinois State Parks Within One Hour of Chicago
Before we get started, a quick disclaimer that we took a look at travel times on the weekend with minimal traffic from the heart of the loop. Your individual travel time is going to heavily depend on where you live in the city (or more likely, how far you are from the highway in the first place).
With that out of the way, let's dive into the Illinois State Parks within one hour of Chicago!
1. James "Pate" Phillip State Park | 45 Minutes
Clocking in at about 45 minutes from Chicago, this is the closest Illinois State Park to Chicago. The park is reclaimed farmland slowly turning time backward to bring back the natural Illinois grasslands and prairie ecosystem that was stripped away as settlers developed the land. With a protected marshland and over three miles of biking/walking trails, this park is a serene escape from the city life that you can come back to and see change year over year.
Bikers can use this park to hook up to the Prairie Path for 61 more miles of biking and hiking trail atop old Illinois train tracks. This Illinois State Park less than one hour away from Chicago shouldn't be missed for even just a quick weeknight escape!
2. Adeline Jay Geo-Karis Illinois Beach State Park | 50 Minutes
As the only one of Illinois State Parks along Lake Michigan, Illinois Beach State Park offers great views of the lake just about an hour away from the city! This state park boasts rich biodiversity along the lakeshore and in the marshes just behind the sand dunes with hundreds of plant species being documented along their 6.5 miles of shore.
Primarily focused on camping, the state park has over 240 Class A sites giving you access to electricity, showers, and slightly nicer bathrooms (not to mention the lakeside sunset views). Non-campers can use Illinois Beach State Park to jump onto the Zion Bike Trail, fish in any number of the inland fishing ponds, or walk along five miles of nature trails!
3. Kankakee River State Park | 1 Hour
Straight down 57, hop-off at the Manteno exit and you're just ten minutes away from Kankakee River State Park! With 4,000 acres of protected forest and 11 miles of river shoreline, there are activities for any kind of outdoor explorer.
A simple 60-minute drive from Chicago, you can fish in the Kankakee River for catfish, walleye, Northern pike, and smallmouth bass or spend some time on any one of their 25 miles of hiking and equestrian trails (perfect for snowmobiling in the winter!). If you've ever wanted to go canoeing but the Chicago River is a little too……🤢…Kankakee River might be the place for you! Local retailers can set you up for a few-hour trip floating down the river or feel free to launch your own canoes off the park's boat ramps!
Want to really get to know the park? Take advantage of the closest Illinois state park camping near Chicago with over 200 sites varying from Class A to Class C for tent campers and RVers alike! A cheap weekend away, camping outside Kankakee is a serene way to get away from the city noise for a few days.
Illinois State Parks Within Two Hours of Chicago
Expanding your radius a little more allows you to reach more western and south-western state parks. Take a look for the best Illinois State Parks within two hours of Chicago!
4. Chain O' Lakes State Park | 1 Hour 15 Minutes
Chain O' Lakes State Park is a Lake County State Park for Chicagoans looking to enjoy some water activities in a smaller lake than Lake Michigan! Bordered by Northern Illinois' largest natural chain of lakes (hence the name) and the Fox River, giving you ample opportunities to boat, fish, and more!
The marshy shoreline isn't great for fishing straight from the side of the lakes but boats may be rented to get onto the water for some walleye, crappie, catfish, three separate species of bass, and more! There are also fishing piers available for the less boating-inclined.
Despite the large area of the park, there are only a few trail systems available for use – less than 3 miles for hikers with another six miles of biker/hiker trails and three equestrian-focused trails with a combined eight miles to explore.
Last but not least, you can get to know the area over a long weekend with any number of their 200+ campgrounds available to RVers and tent campers.
5. Gebhard Woods State Park | 1 Hour 15 Minutes
A small but mighty state park, Gebhard Woods is located along the Illinois & Michigan (or I&M) Canal and Canal State Trail, providing fantastic access to some of Illinois' best waterways and larger trail systems. With only primitive camping available, this park is great for those who are really looking for privacy and don't mind a lack of electricity or vehicle access.
The main attraction of Gebhard Woods is the canal itself – Spend the day paddling between here and Channohan State Park to spot wildlife, try your hand at fishing, and see historical structures like an original locktender's house.
6. Moraine Hills State Park | 1 Hour 15 Minutes
Opened in 1976, Moraine Hills State Park centers around one of the only glacial-fed lakes in Illinois that have remained undeveloped (apart from some of the State Park facilities) leaving a pristine natural lake for fish to thrive in. The park is a haven for birdwatchers with over 200 documented species being identified within the park's boundaries. Find the birds by hiking the ten miles of hiking/biking trails throughout the park as waterfowl migrate through the seasons.
No camping is available at Moraine Hills but a few day trips should give you a lay of the land! Located in McHenry County, this state park is just over an hour from Chicago for weekend or evening fun.
7. Shabbona Lake State Park | 1 Hour 15 Minutes
Shabbona Lake is one of Illinois' largest state parks with over 1,500 acres of prairie and an additional 315 acres of man-made lake that was named one of Illinois' Best Fishing Lakes by the state legislature in 2011.
There is truly something for everyone at Shabonna Lake – The lake is stocked with twelve species of fish and you can rent a boat within the park, fishing or not! Hikers can spend time on eight miles of trails along the lake and surrounding forest. Shabbona Lake Campers can reserve lakeside campgrounds ahead of time or try their luck with grabbing one of the 60 first-come-first-serve campgrounds they keep in reserve every weekend!
8. Buffalo Rock State Park | 1 Hour 30 Minutes
Only an hour and a half away from Chicago, Buffalo Rock State Park is home to unique, hikeable sculptures developed as a tribute to the Effigy Mounds that local Native Americans would use for ceremonial and burial purposes. There are five critters found in Illinois rivers that have been built to be large enough to walk on.
As you make your way around the two-mile trail loop to each of the sculptures, you might spot the two bison that call Buffalo Rock home! They have a grazing area near the front of the park.
The park also offers a few primitive campsites for bikers & hikers coming off the I&M Canal Trail but do not have water or restroom access so keep that in mind! This LaSalle County State Park can be a great alternative when exploring the other nearby state parks (Starved Rock & Matthiessen) if they fill up for the afternoon!
9. Rock Cut State Park | 1 Hour 30 Minutes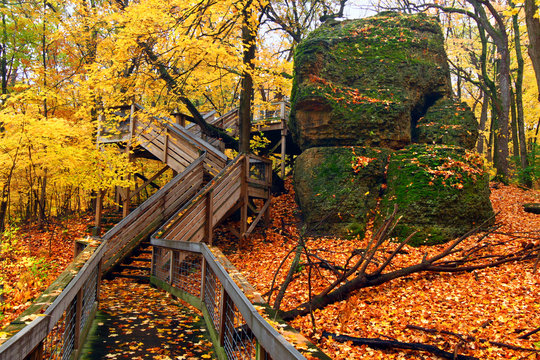 The largest state park in Northern Illinois, Rock Cut State Park has unique options not available at many other Illinois State Parks near Chicago like a swimming beach, almost two dozen miles of mountain biking trails, and an off-leash area for dogs and their owners to explore with freedom.
Adding to the park's activities are forty miles of hiking trails crisscrossing the park through forest, along the lake, and through the many acres of prairie in the park. Spot over a hundred different types of wildflowers through different trails and times of year!
The fun doesn't end in winter either – Rock Cut maintains groomed cross country skiing trails and you can rent snowshoes to make your way through fresh powder and experience the silent winter woods.
There's so much here that you might want to consider spending a weekend at any one of their 250+ campsites. Launch your kayak right from the tent if you plan ahead to grab one of the lakeside spots! If the waterside sites are full, there are plenty of other private locations throughout this Winnebago County State Park (far more spacious and tucked away than most other IL State Parks).
10. Starved Rock State Park | 1 Hour 30 Minutes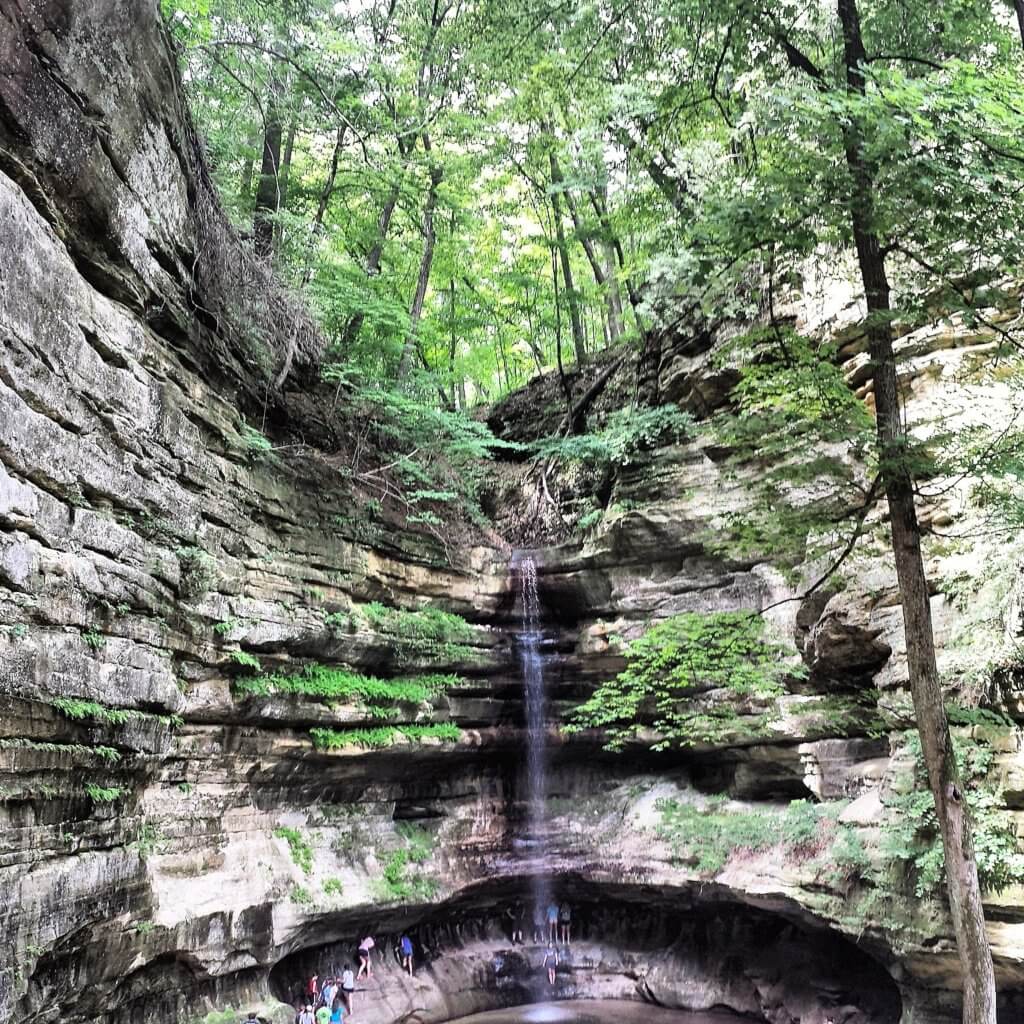 If you've heard of any parks on this list, you've almost certainly heard of Starved Rock.
Likely the most popular Illinois state park within two hours of Chicago, Starved Rock has 13 miles of well-maintained hiking trails and more elevation changes than you'll find at almost any other park here. Take the different trails down into the water-carved canyons to find waterfalls and distinctive natural beauty. Many trails have constructed stairs and walkways for beginner hikers or hikers with difficulties in elevation so check in at the visitors center for recommendations if you meet this description!
If you'd rather take to the water – launch your boat right into the Illinois River or take advantage of kayak rentals to see a new perspective of Starved Rock or catch any number of fish species that call the river home.
Make it a long weekend by staying at the Starved Rock Lodge or camp at any one of the 129 campgrounds available for reservation.
11. Matthiessen State Park | 1 Hour 30 Minutes
Just miles away from Starved Rock, Matthiessen State Park offers a beautiful canyon to hike around using the upper bluffs trails or into, especially if Starved Rock is full. Challenge yourself to hike down into the Giant's Bathtub to walk along the creek and marvel at the exposed rock within the two different dells.
This LaSalle County State Park is a must-see and just under two hours from Chicago!
12. Illini State Park | 1 Hour 30 Minutes
Less than an hour and a half away from Chicago, Illini State Park is a campground and day-use area perfect for groups looking to spend some time outside.
While there are only a few miles of trails available, the park has shelters and tables scattered through the area as well as a little over one hundred campgrounds if you'd rather spend the weekend! This state park can be a great starting point for campers that were hoping to spend their time in Starved Rock or Mattheisen but were too late to reserve.
13. Lowden State Park | 1 Hour 30 Minutes
A little under two hours outside of Chicago, Lowden State Park sits along the Rock River offering a nice place to unwind and walk the four miles of mild trails. Take the riverside trail all the way up the bluff to view the 50-foot tall statue dedicated to the Native Americans that originally inhabited the area.
Lowden has a slightly nicer camping experience with a wide range of options offering electricity all the way to primitive campsites deeper in the forest. The shower house available offers a better restroom for campers than the outhouses at White Pines so consider Lowden as your Illinois State Park of choice for your next weekend away
14. White Pines Forest | 1 Hour 45 Minutes
Just on the cusp of two hours away from Chicago, White Pines State Park is a 385-acre area for family forest camping, hiking, and fishing! The most distinct feature of White Pines is the concrete fjords built to allow driving through flowing water to access different parts of the park.
With about 5.5 miles of trails, the park is well suited for families looking for a nearby weekend excursion or camping trip! White Pines has over 100 campsites primarily for tent camping or other campers who do not require electricity.
Conclusion
Illinois State Parks Close to Chicago
There are a lot of IL State Parks nearby Chicago if you know where to look! If you need even more options, we've found more campgrounds and parks run by counties or privately owned in our Illinois campground recommendations!
Want to know more about Illinois State Parks? Check out our other articles!